Gain Visibility into On-Premise Sales Performance and Trends
F&B Insights delivers comprehensive reports that provide beverage alcohol brands with valuable data and insights, empowering them to understand consumer behavior, identify microtrends, and make informed decisions that drive growth.
Partner with Merchants You Have Relationships With
– F&B Insights helps suppliers optimize their on-premise relationships and gather data on their cocktail performance that goes beyond distributor depletion reports. Merchants can create programs and send proposals to suppliers with just an email address.
Build new Relationships with the F&B Insights Marketplace
The F&B Insights marketplace makes it easy for brands to meet and access cocktail sales insights from new merchants. Add in parameters such as location and desired merchant profile to give matching merchants access to your program.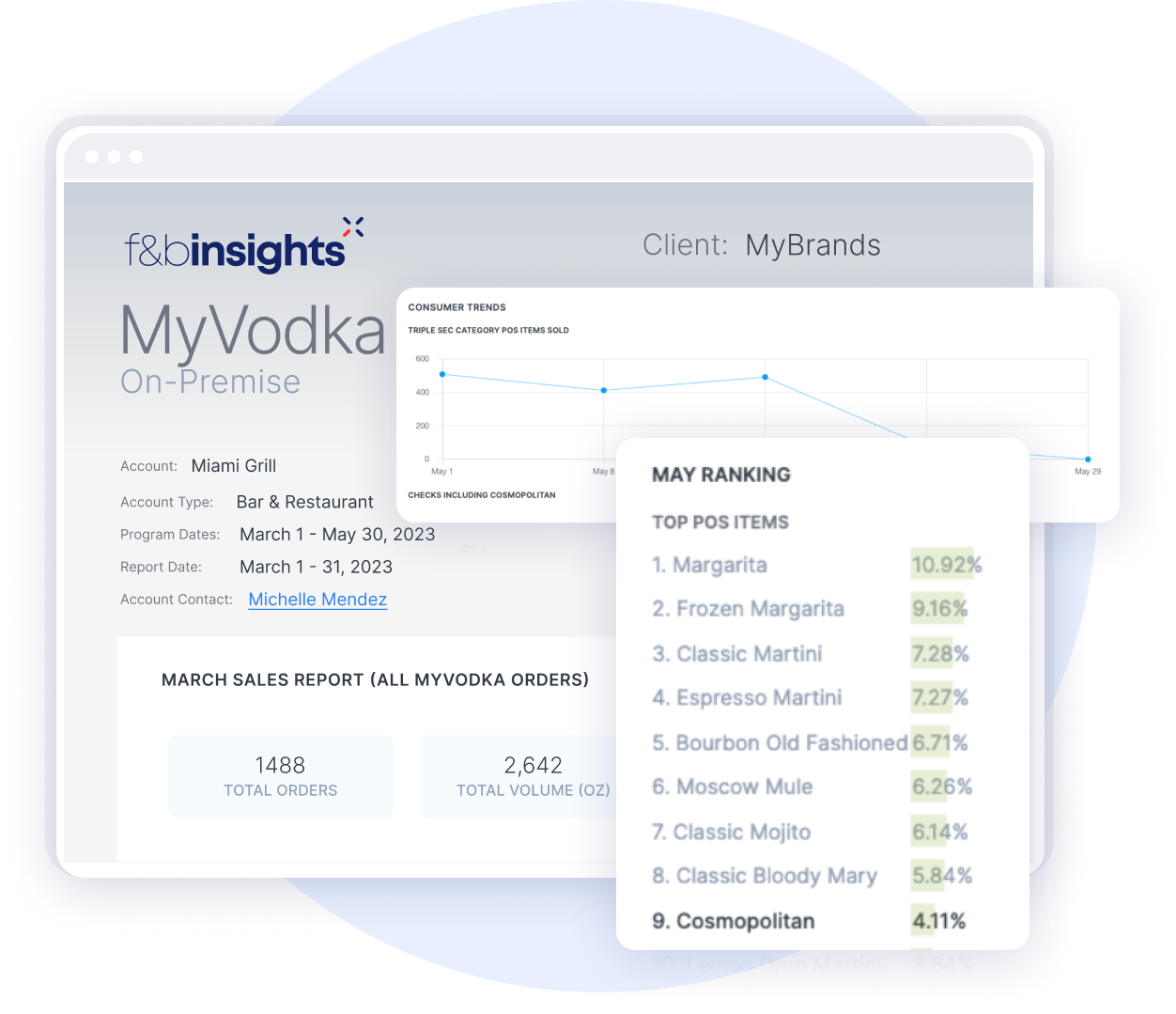 Dive into actionable data with F&B Insights reports, mapping performance within accounts and markets. Discover item rankings, share of category sales, and more to understand your on-premise performance.
Explore segmented cocktail styles, total units & volume sold, share of cocktail sales, cocktail rankings on menus, week-over-week performance, & sales trends. Gain a comprehensive view of your cocktail performance and identify opportunities for improvement.

Uncover valuable insights about customer behavior and purchase decisions, such as peak days and hours, sales trends, average group size, average check size, per-person average, and food and drink pairings. Understand your customers and tailor your strategies accordingly.
Analyze performance across accounts to spot patterns and trends so you can optimize your ongoing and future programs. Ensure ROI by making informed decisions when it matters most.
Elevate your brand strategy & drive growth with F&B Insights.
Gain a competitive edge in the on-premise market by leveraging data-backed insights. Discover the power of actionable on-premise sales reports today.