Agency-Tested, Brand-Approved
Overproof Tastings for Flawless Sampling Event Execution.

Streamline your activation planning, track events in real-time, and gain valuable insights to drive revenue growth and keep clients satisfied.
What Agencies Say About Us

" Overproof has been absolutely instrumental in the growth of my company. Tastings allows us to place on-site tasks in the rep's hands, streamline data tracking, and lessen oversight — which is invaluable as a manager. The platform gave my agents the power to do their job, without needing much from me. At their fingertips are automated tasks necessary to their activations. It gave us the tools to provide program info in one spot for our clients. We found the sample tracker to be our favorite part, allowing for complete ease in measuring conversion rates. I recommend the Tastings app as a service to ALL of my clients. "
Sales Manager
The Nova Collective Agency
Streamlined Planning and Execution:
Simplify off-premise activation planning with our intuitive platform. From organizing brand materials and scheduling talent, to customizing which in-store activities are required, Tastings streamlines processes to help you plan and schedule events with ease.

Real-Time Event Tracking:
Stay in control of your activations with live tracking. Monitor the progress of events, and keep track of talent arrival times, progress throughout the event, and check-out details across all activations.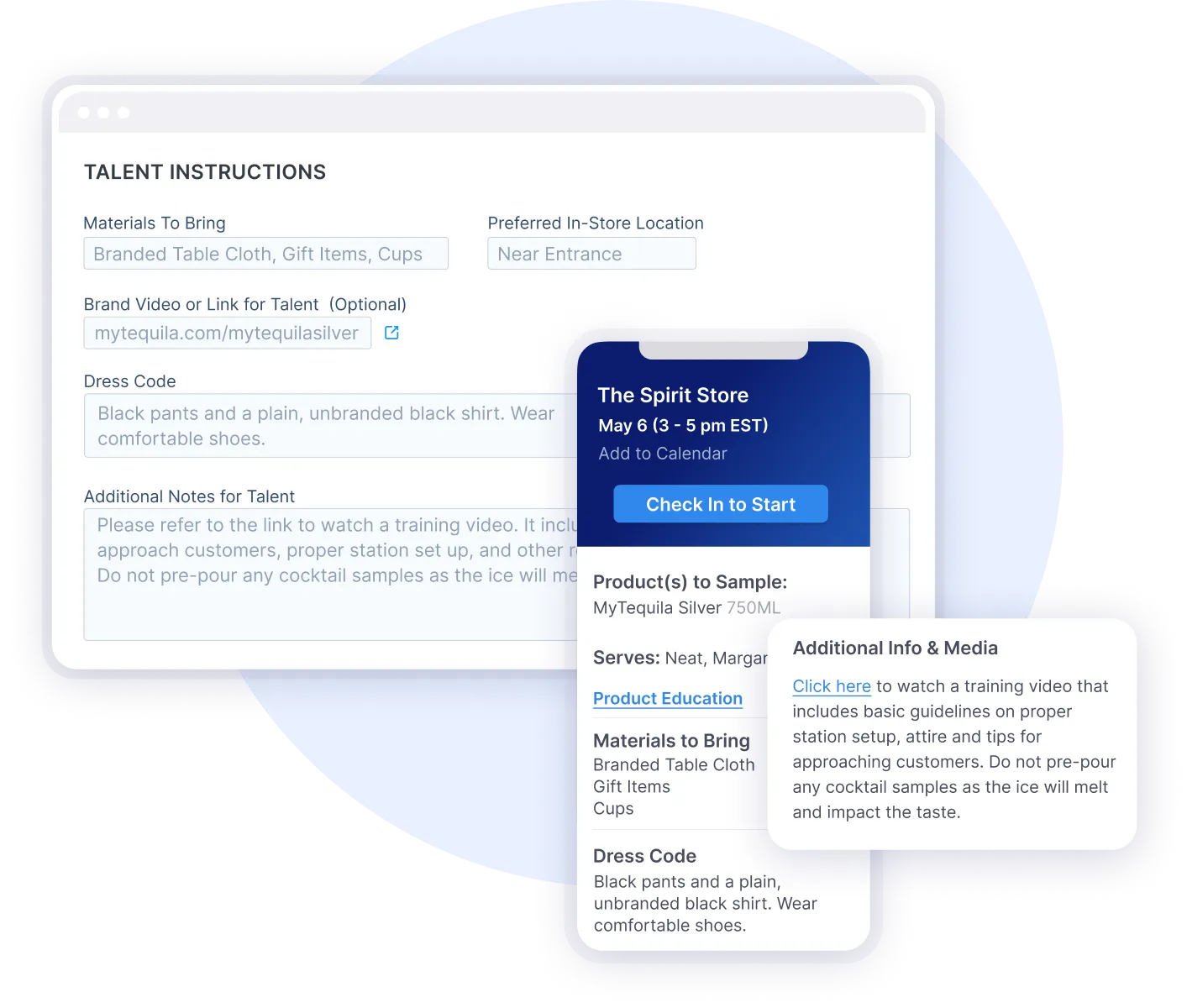 Easy Execution & Data Collection:
Say goodbye to tedious data collection. Tastings automates the process by capturing activation data in real time, providing you with verified event recaps and valuable insights in your inbox, saving you time and hassle.
Data-Driven Decision-Making:
Gain valuable insights and leverage countless metrics to optimize your activation strategy. Identify the perfect combination of agent, location, product, day, and time for each event, resulting in improved program performance and increased revenue.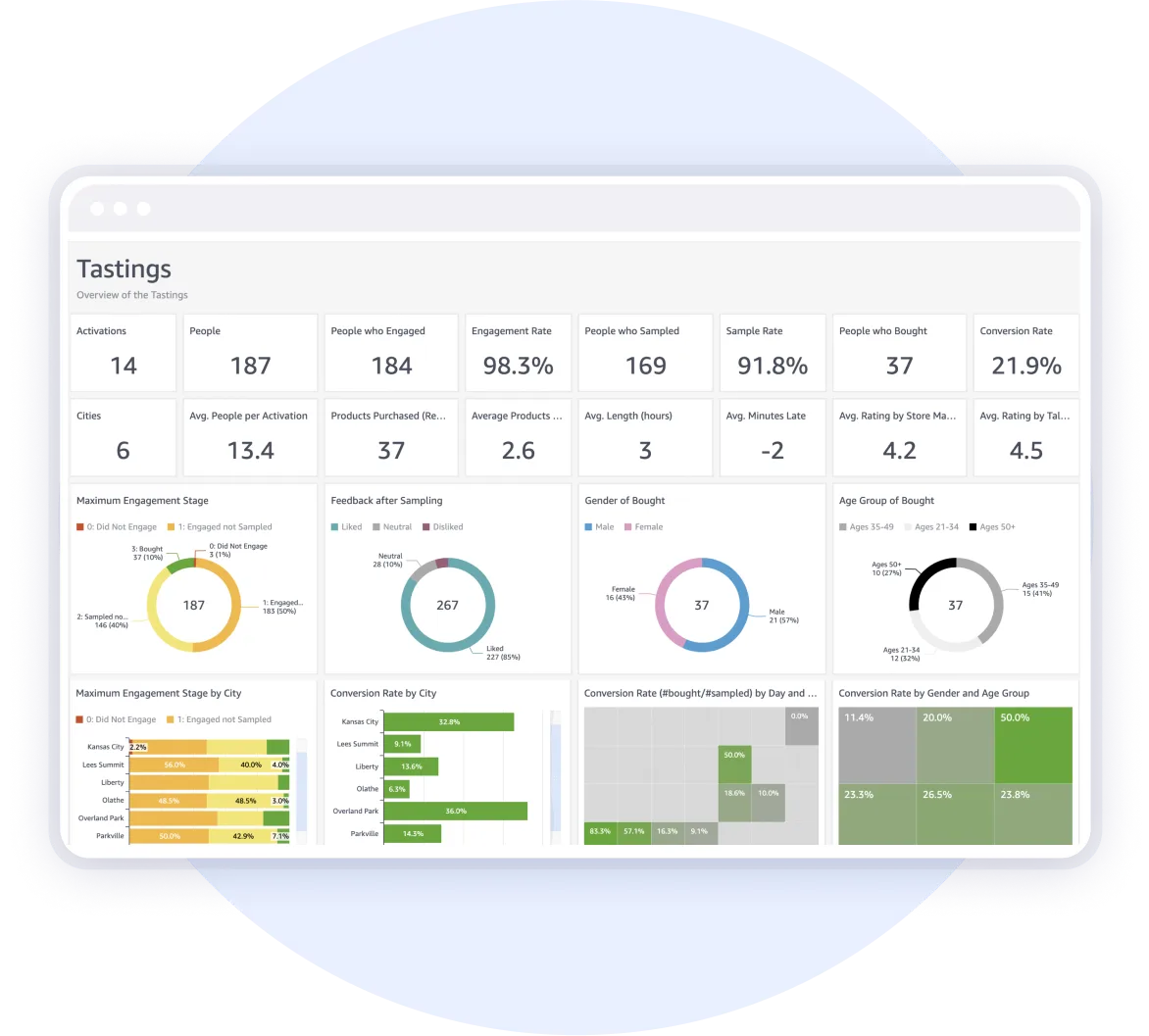 Effortless Client Reporting:
Generate reports with just a few clicks and impress your clients with actionable insights. With Tastings, your team effortlessly collects all the data your clients need, empowering you to seamlessly provide them with comprehensive results that showcase your agency's expertise.
EMPOWER TALENT, AMPLIFY RESULTS:
Supercharge Talent Performance with the Tastings App
Simplified Training & Intuitive Interface
▼
Schedule & Event Details
▼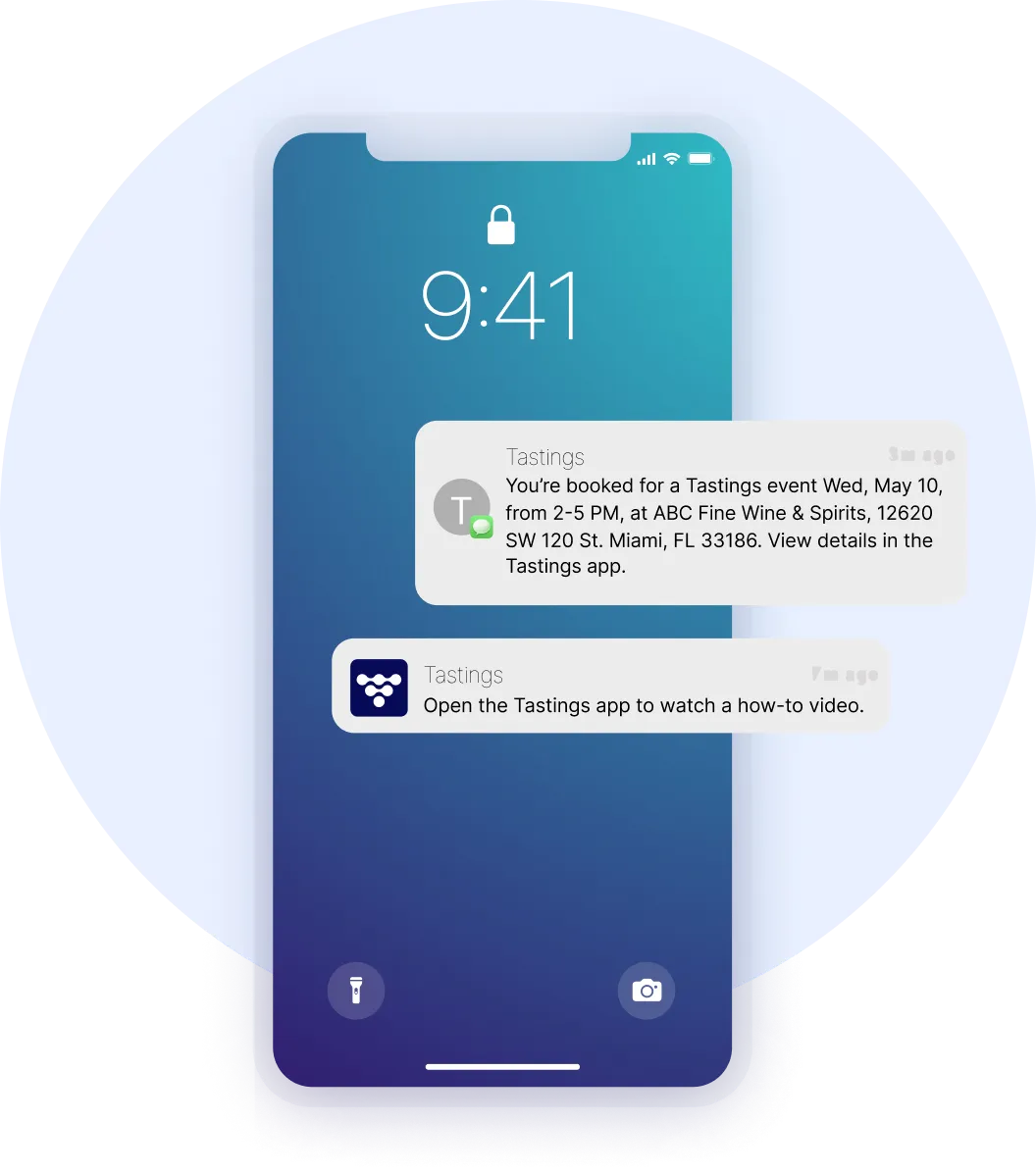 Talent receives instant alerts for assignment and event changes, ensuring they stay updated and informed throughout the activation process.
Simplified Training & Intuitive Interface
▼
Schedule & Event Details
▼
| Packages | No of Tastings | Cost per Month |
| --- | --- | --- |
| Agency Starter | 100 / month | $500 |
| Agency Growth | 210 / month | $1,000 |
| Agency Pro | 5,000 / year | $1,400 |
| Agency Unlimited | 5,001+ | Contact us |
Experience the Power of Data-Driven Activations