If you are an alcohol supplier, you know how important it is to get your product in front of as many customers as possible. But how do you reach the accounts that serve the most food and drinks in your area? In this blog post, we will give you some tips on how to target high volume restaurants to boost your alcohol sales. We will also provide a list of 29 high volume restaurants – both chain and independent accounts – that you can start assigning to your sales reps today.
What is High Volume Foodservice?
High volume foodservice is a term that refers to foodservice operations that produce and serve large quantities of food to many customers. High volume restaurants are a subset of high volume foodservice operations that focus on serving meals and beverages to customers in a dining setting. High volume restaurants may include fast casual chains, sports bars, buffets, steakhouses, and family-style eateries. High volume restaurants typically have high turnover rates, large seating capacities, and diverse menus.
What is the Foodservice Industry Outlook for 2023?
According to the National Restaurant Association, the foodservice industry is expected to grow by 4.4% in 2023, reaching $899 billion in sales. The growth will be driven by factors such as consumer demand, population growth, income growth, and technological innovation. However, the industry will also face challenges such as labor shortages, rising costs, changing consumer preferences, and increased competition.
The foodservice industry outlook for 2023 also varies by segment and region. For example, the fastest growing segments are expected to be limited-service restaurants (5.6%), social caterers (5.5%), and drinking places (5.2%). The regions with the highest projected growth are the South Atlantic (5.2%), the West South Central (5%), and the Mountain (4.9%).
Why Should You Target High Volume Restaurants for Your Alcohol Brand?
High volume restaurants are attractive targets for alcohol suppliers for several reasons:
They have a large customer base that consumes alcohol regularly. According to a study by Technomic, 71% of consumers drink alcohol at least once a month at restaurants. Moreover, alcohol consumption tends to increase with the size of the party and the occasion. Therefore, high volume restaurants can offer more opportunities for alcohol sales than low volume restaurants.
They have a higher profit margin on alcohol than on food. According to a report by Restaurant Resource Group, the average profit margin on alcohol sales is 75%, compared to 65% on food sales. This means that high volume restaurants can generate more revenue and profit from selling alcohol than from selling food.
They are more likely to have loyal customers who trust their recommendations. According to a survey by Nielsen CGA, 62% of consumers say they are loyal to a specific restaurant or bar when drinking out. Furthermore, 49% of consumers say they rely on staff recommendations when choosing what to drink. This means that high volume restaurants can influence their customers' choices and preferences for alcohol brands and products.
Featured Resource: Sales 101 For Alcohol Brands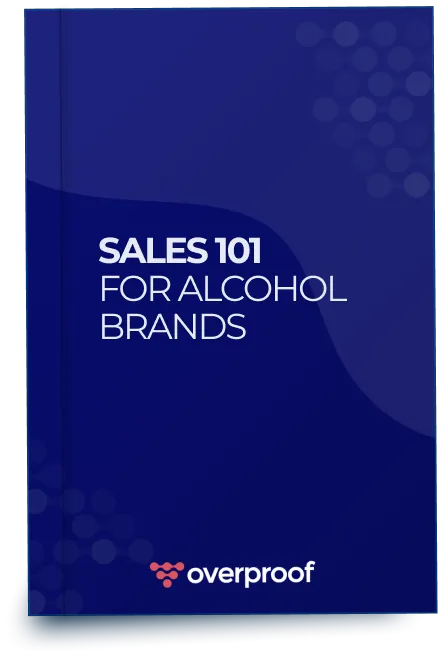 How to Reach High Volume Restaurants for Your Alcohol Sales
To sell your alcohol product into high volume restaurants, you need to conduct your own research, planning, and outreach. Here are some simple steps you can follow:
Identify your target market
Figure out who your ideal customers are, what their needs and pain points are, and how your product can solve them. You also need to know who your competitors are, what their strengths and weaknesses are, and how you can differentiate yourself from them.
Find potential leads
Find high volume restaurants that match your target market criteria and are located in your service area. You can use online directories, databases, social media platforms, industry publications, trade shows, referrals, and other sources to find potential leads. You can also access high-quality opportunity account sets through the Overproof software, which uses artificial intelligence to analyze bar and restaurant menus at scale.
Qualify your leads
Filter out the leads that are not interested or qualified for your product. You can use online tools, phone calls, emails, and other methods to qualify your leads based on their budget, authority, need, and timing. However, if you want to automate this step and speed up your sales cycle, Overproof's software will take the guess-work out of lead qualification by presenting you with qualified opportunity accounts based on your target criteria.
Build relationships
You need to establish trust and rapport with your leads and show them how your product can benefit them. Make sure your brand ambassadors or market managers are doing their account visits and having face-to-face meetings with the bar managers or owners of potential accounts. Aside from normal meetings, some great interactions that build relationships with high-volume restaurants include bartender sampling events, staff trainings, and other custom activations.
As the owner or manager of an alcohol brand, you'll want to make sure you track all of these on-premise activities using a technology like the Overpoof app. This app will allow you to track your field team's daily activities and give you oversight on how these activities are contributing to the overall goals you have set for them through the Overproof platform.
Close the deal
You need to persuade your accounts to buy your product and sign a purchase order with you. You can use proposals, presentations, negotiations, or online tools like Overproof to secure a commitment from a high volume restaurant.
29 High Volume Restaurants to Add to Your Account Set Today
Here is a list of 29 high volume restaurants to consider sending your field reps to today.
9 Chain Restaurants
These restaurants are ranked by their average unit volume (AUV) in 2021 according to Nation's Restaurant News and Datassential. Note that this list is not exhaustive and may not reflect the current situation of each restaurant.
Bahama Breeze: $6.49M AUV (+12.3% YOY Change)
Maggiano's Little Italy: $6.57M AUV (+25.4% YOY Change)
Yard House: $6.57M AUV (+25.4% YOY Change)
The Capital Grille: $.6.64M AUV (+25.7 YOY Change)
Legal Sea Foods: $6.83M AUV (+10.9% YOY Change)
Fleming's Prime Steakhouse: $6.93M AUV (+58.4% YOY Change)
Cooper's Hawk: $8.31M AUV (+1.3% YOY Change)
Fogo De Chao: $8.66M AUV (+91.5% YOY Change)
The Cheesecake Factory: $10.57M AUV (+32.2% YOY Change)
20 Independent Restaurants
These restaurants are ranked by annual sales volume in 2022 according to Restaurant Business' Top 100 ranking. Although not fully comprehensive, this list includes both longstanding establishments and noteworthy newcomers.
Komodo (Miami): $41 million
The Boathouse Orlando: $39.9 million
Swan (Miami): $31 million
Maple & Ash (Chicago): $30.3 million
Mila (MIami): $27.4 million
Alinea (Chicago): $27.1 million
Top of the World (Las Vegas): $25.7 million
Shooters Waterfront (Fort Lauderdale): $25 million
Prime 112 (Miami Beach): $24.8 million
Paddlefish (Orlando): $23.8 million
Capa (Orlando): $23.5 million
Maple & Ash (Scottsdale): $23.5 million
Commander's Palace (New Orleans): $23.2 million
Taste of Texas (Houston): $23.2 million
Joe's Seafood, Prime Steak & Stone Crab (Washington, D.C.): $22.5 million
Gibsons Italia (Chicago): $22.3 million
Joe's Seafood, Prime Steak & Stone Crab (Chicago): $22.3 million
Papi Steak (Miami Beach): $22 million
Marion (Miami): $22 million
Buddakan (NYC): $21.8 million
The Takeaway on High Volume Restaurants
High volume restaurants are important targets for alcohol suppliers because they have a large and loyal customer base, a high profit margin on alcohol sales, and a strong influence on consumer preferences. To reach high volume restaurants for your alcohol sales, you need to do some research, planning, and outreach to identify, qualify, build relationships, and close deals with them.
Check out these other articles for more accounts to add to your target list: