If you are a beverage alcohol supplier, you might be wondering where to sell alcohol online. Selling alcohol online can be a great way to reach more customers, increase your sales, and grow your brand. However, selling alcohol online also comes with some challenges, such as compliance, shipping, and marketing. That's why it's important to choose the right online platform for your products and goals.
In this blog post, we will explore some of the best online platforms for selling alcohol, such as Drizly, ReserveBar, WineDirect, and more to help you decide which one is the best fit for your business. Whether you are looking for a platform that offers fast and convenient delivery, premium and luxury branding, or direct-to-consumer ecommerce, we have you covered.
By the end of this blog post, you will have a better idea of where to sell alcohol online and how to succeed in the online alcohol market. So let's get started!
Where to Sell Alcohol Online: List of Platforms
There are many online alcohol selling platforms that you can choose from, but here are some of the most popular ones:
Drizly
If you want to reach more customers online and offer them fast and convenient delivery, Drizly is a great partner. Drizly has a large and loyal customer base in over 100 markets in 26 states, and carries a wide range of beer, wine, liquor, and other beverages from local and national suppliers. You can also benefit from special offers and discounts on Drizly products. The delivery fee is only $5 per order, which is affordable for customers and profitable for you.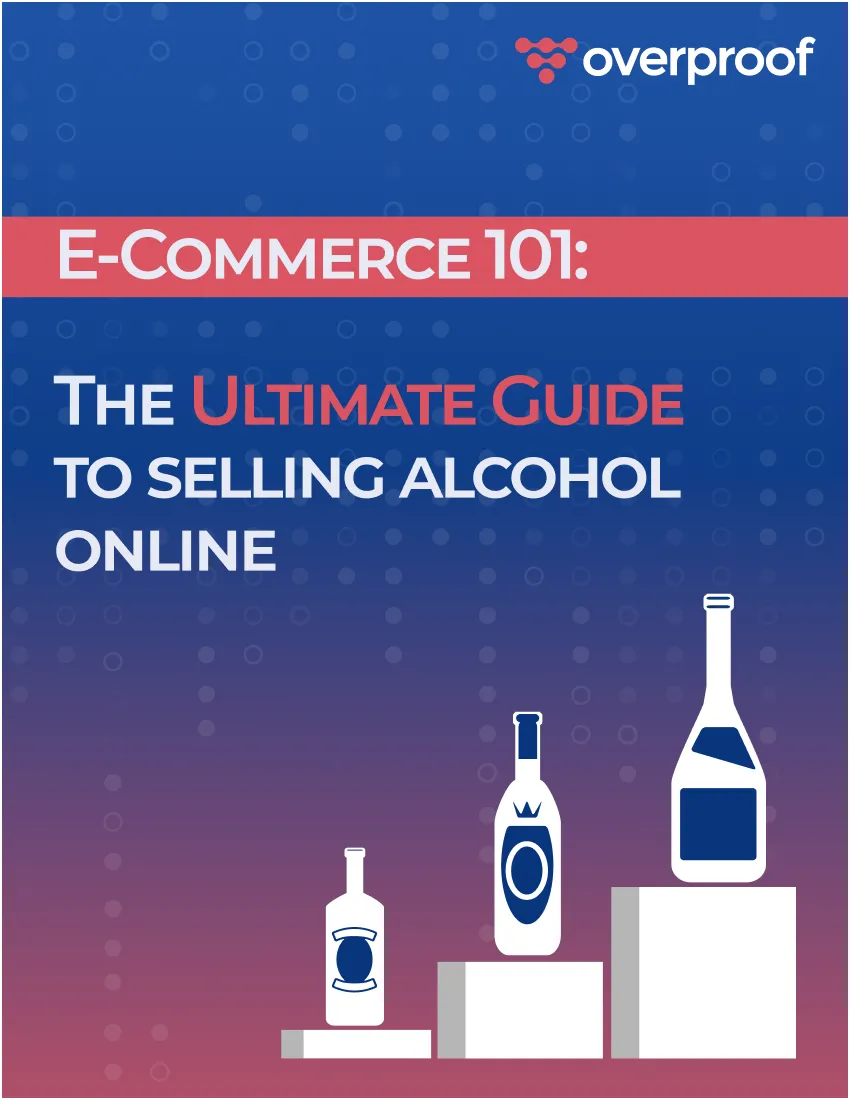 FREE GUIDE
To learn the ins and outs of e-commerce, including the challenges and opportunities this channel presents for beverage alcohol brands, download E-Commerce 101: The Ultimate Guide to Selling Alcohol Online.
If you want to showcase your premium and luxury liquors and spirits to discerning customers, ReserveBar is the online liquor store to join. ReserveBar has a high-end customer base that values quality and exclusivity. ReserveBar delivers whiskey, bourbon, tequila, gin, rum, vodka, and more, as well as unique collections, limited editions, and personalized bottles that can enhance your brand image and loyalty.
Thirstie is a software company that helps global alcohol companies connect with consumers through branded digital storefronts. Thirstie offers a gift card solution for liquor brands, a full customer experience that complies with regulations, and valuable customer data that can be used for marketing.
Bevmo is a retail chain that offers alcoholic drinks and related products. Bevmo has a large and diverse inventory of wine, spirits, beer, and more, as well as gifts, accessories, and party supplies. Bevmo gives you the option to pick up your order in store in an hour or less, or get it delivered for a flat fee of $5 per order.
MiniBar Delivery is an online alcohol store that delivers wine, liquor, beer, and more to your customers in 30 to 60 minutes. MiniBar Delivery has a wide selection of products from local and national suppliers, as well as special deals and discounts for customers. MiniBar Delivery is a convenient and reliable way to increase your sales and reach more customers.
Wine.com is the world's largest wine store, with over 15,000 wines from every wine region in the world. Wine.com also offers champagne, sake, spirits, and accessories, as well as expert ratings, reviews, and recommendations. Wine.com is a trusted and reputable platform to showcase your wines and attract wine lovers from around the world.
VinoShipper is an ecommerce platform that enables wineries to sell their wines online and ship them directly to consumers in 46 states. VinoShipper also provides marketing tools, customer service, compliance management, and reporting features.
WineDirect is a direct-to-consumer ecommerce platform for wineries. It offers features such as online store, tasting room, wine club, marketplace, and fulfillment. It helps wineries sell wine online with beautiful websites, easy checkout, and powerful marketing tools. It also provides industry leading fulfillment and warehouses. WineDirect powers over 2,000 wineries and supports $2 billion in wine sales annually.
Commerce 7 is a modern commerce platform for wineries that helps them create better shopping experiences for their customers. Commerce 7 offers solutions for point of sale, clubs and subscriptions, ecommerce, CRM, and reservations. Commerce 7 allows wineries to personalize their products and services based on customer preferences and behavior. It also streamlines workflows and automates tasks to save time and money. The platform powers over 1,380 wineries around the world and supports all sizes of businesses.
These are some of the online selling platforms that you can consider for your alcohol brand. However, you should always do your own research and compare different platforms based on your needs and goals. You should also check the legal requirements and regulations for selling alcohol online in your state or country.
FAQs
What are the best online alcohol selling platforms?
Drizly, ReserveBar, Thirstie, Bevmo, MiniBar Delivery, Wine.com, VinoShipper, WineDirect, Commerce7 are some great online alcohol stores.