Online alcohol stores are a booming business in the US and around the world. They offer convenience, variety, and competitive prices for consumers who want to buy beer, wine, liquor, and other drinks from the comfort of their homes. But how can you, as a beverage alcohol supplier, take advantage of this opportunity and sell your products on these platforms? In this article, we will give you some tips and insights on how to do that, as well as a list of the best online alcohol selling platforms that you should consider.
Why Sell on Online Alcohol Stores
Selling your alcohol products on online alcohol stores has many benefits for your business. Here are some of them:
Expand Your Customer Base
You can reach a wider and more diverse customer base. Online alcohol stores have millions of visitors every month who are looking for different types of drinks, from craft beers to premium spirits. You can showcase your products to these potential buyers and increase your brand awareness and loyalty.
Save Time on Logistics and Decrease Distribution Costs
You can save time and money on distribution and logistics. Online alcohol stores handle the delivery and shipping of your products to the customers, so you don't have to worry about that. You can also avoid the hassle of dealing with different state laws and regulations regarding alcohol sales, as online alcohol stores take care of that for you.
Get Marketing and Customer Service for Your Product
You can leverage the marketing and customer service of online alcohol stores. Online alcohol stores have professional teams that handle the promotion and advertising of their platforms and products. They also have customer service agents who can answer questions and resolve issues from the customers. You can benefit from these services and focus on your core business activities.
Gain Access to Customer Feedback and Data
You can get valuable feedback and data from online alcohol stores. Online alcohol stores collect and analyze data from their customers, such as their preferences, behavior, and feedback. You can access this data and use it to improve your products, pricing, packaging, and marketing strategies.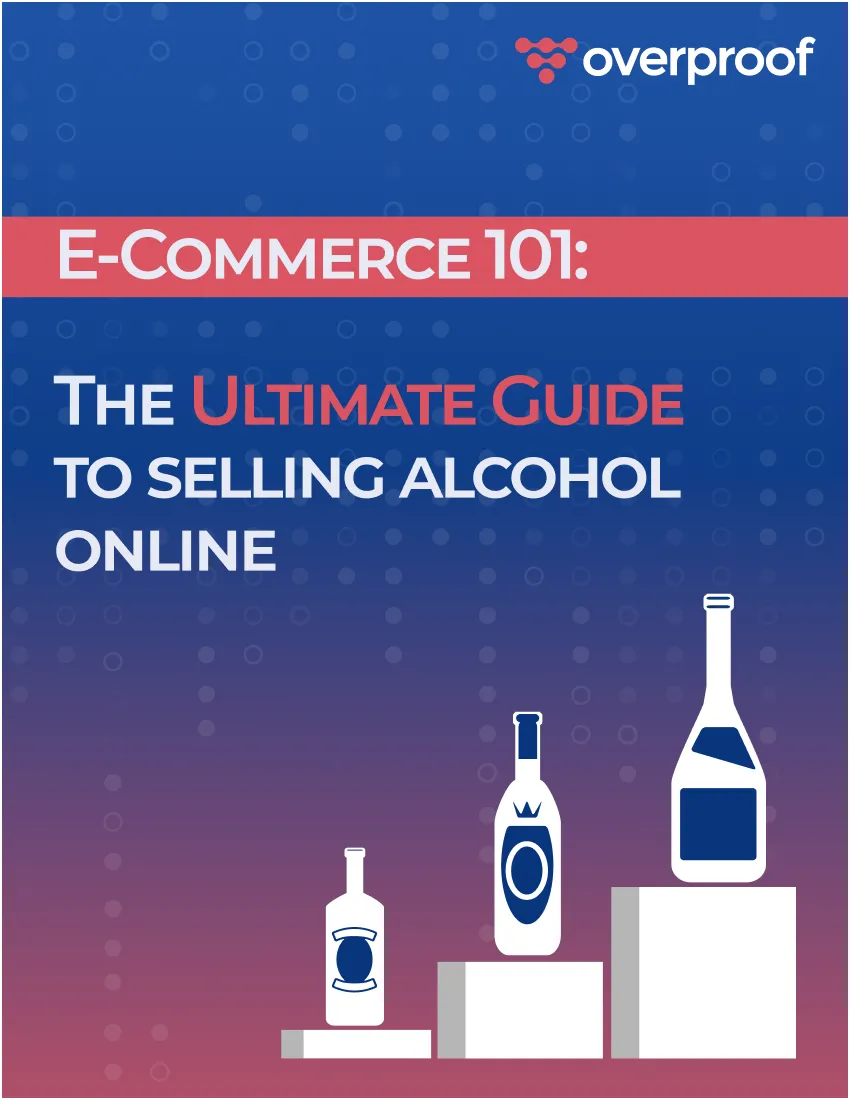 FREE GUIDE
To learn the ins and outs of e-commerce, including the challenges and opportunities this channel presents for beverage alcohol brands, download E-Commerce 101: The Ultimate Guide to Selling Alcohol Online.
How to Sell on Online Alcohol Stores
Selling your alcohol products on online alcohol stores is not as hard as you might think. Here are some steps that you should follow:
Research the market and the platforms
Before you start selling your products on online alcohol stores, you should do some market research and find out what kind of drinks are popular and in demand among the customers. You should also compare different online alcohol selling platforms and see which ones suit your needs and goals. Some factors that you should consider are the fees, the commission rates, the product categories, the delivery options, the customer service, and the reputation of the platforms.
Register and create your account
Once you have chosen one or more online alcohol selling platforms that you want to work with, you should register and create your account on their websites. You will need to provide some basic information about your business, such as your name, address, phone number, email, tax ID number, etc. You will also need to verify your identity and provide proof of your license to sell alcohol in your state or country.
Upload your products and set your prices
After you have created your account, you can start uploading your products to the online alcohol selling platforms. You will need to provide some details about your products, such as their name, description, category, type, size, ABV (alcohol by volume), origin, etc. You will also need to upload high-quality photos of your products that showcase their features and benefits. Additionally, you will need to set your prices for your products, taking into account the fees and commissions that the alcohol e-commerce platforms charge.
Promote your products and engage with customers
Once you have uploaded your products to the online alcohol selling platforms, you should start promoting them and engaging with customers. You can use various methods to do that, such as social media marketing, email marketing, influencer marketing, etc. You should also respond to customer inquiries and reviews promptly and professionally.
Online Alcohol Stores Wrapped Up
Knowing how and where to sell alcohol online is a vital skill for beverage alcohol suppliers in the digital age. Selling alcohol online can help you reach more customers, increase your sales, and grow your brand.
FAQs
How do I sell my product through an online alcohol store?
To sell alcohol online, you need to choose the right platform, comply with regulations, ship products safely and efficiently, and market your products effectively.