Experiences are what stick with people. Interactive, sensory, memorable encounters drive not only human emotions and behaviors, but they also have a huge impact on retail sales. The concept of an experience economy has become even more important in the past 5-10 years. And with the proliferation of the retail market share moving to the eCommerce sector, creating meaningful in-store wine sampling experiences should be a central focus for all wine brands.
Luckily, wine is built to experience. It smells great, tastes even better, and draws upon additional captivating elements, like history, terroir, and craftsmanship. This makes wine sampling and in-store tastings an excellent way to promote your brand. They add value to every party: the store owner, the brand, and the tasters who get to sample wine before they make purchases. Think about these strategies when designing and planning your in-store wine tastings.
Selecting Your Wine Sampling Bottles
Your wine selection for a sampling event shapes and adds dimension to your brand story. You should always push your core product, of course, but it's good to bring in some variety as well. Find styles that contrast enough to highlight the flavor notes of each but also complement each other. Plus, make sure that your tasting talent is pouring the wines in the appropriate order – white wines first and full-bodied reds last.
It's important to think about the demographics and preferences of the customers that frequent a specific retail location. Consider which wines are selling the most at that store. As long as your vendor is using a smart, modern liquor store point of sale, this should be easy to determine.
As a general rule of thumb, you should bring at least three different bottles that your brand offers, but don't plan on pouring any more than five total. You want to show customers variety and appeal to different tastes without overwhelming or confusing them.
Featured Resource: The Ultimate Store Sampling Guide For Alcohol Brands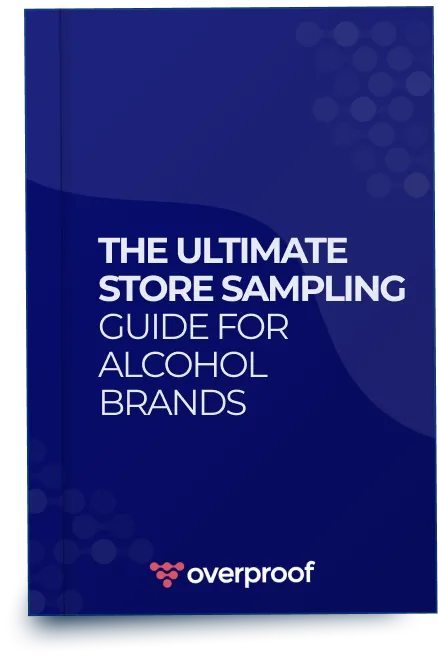 Sample a Wide Variety of Profiles
Keep in mind, seasons and holidays have a considerable impact on the wine that consumers drink. Connect to new customers by catering your pairing to seasonal trends. But don't just stop there; try to take a two-pronged approach.
First, bring something more straightforward. You can appeal to seasonal purists and those with more established tastes by offering something like a Provencal rosé during the spring, for example. During the winter months, you'll want to bring out full-bodied reds, like cabernet sauvignon, syrah or shiraz.
However, you can also use the tasting opportunity to stand out a little bit. Go for a winter white that most people wouldn't think to drink during the colder months. If your tasting is in the summer, you could offer a chilled red wine, like a light bodied pinot noir or delicate gamay. Liquor store guests might have never considered how great a lighter chilled red could pair with a summer BBQ. Offering these types of exploratory and distinct departures from the norm can help your brand have a lasting impression on consumers during an in-store wine sampling.
Just make sure that you are thoroughly stocked before you try to persuade shoppers to buy a specific wine. In fact, your best bet is to keep cases of the wines you are sampling right under the tasting table. No need to send the customer halfway around the store looking for your brand when you can simply hand them the bottle directly after receiving a taste.
Wine Sampling Messaging and Brand Story
One thing is for sure – people are going to care just as much about your brand's story as they are about the actual flavors or varietals. The huge explosion in artisanal, craft production in the wine and beverage industry continues to shape consumer interest. Shoppers are curious about what makes brands unique and genuine.
An emphasis on sustainability, biodynamics, and organic grapes will go a long way in 2023. Just make sure that your brand's messaging is relayed effectively. Whoever takes on the role of standing behind the tasting table should be well-trained and equipped to converse comfortably with store visitors about specific aspects of your brand. Tie in information about vineyard topography, production processes, and other interesting bits of information while pouring samples to shoppers. Wine tastings are meant to be educational, after all. A meaningful interaction will stick with consumers more than anything else.
Be sure to prominently display your brand and products. Visual stimuli will help customers remember specifics. Add a QR code to your display that links to a social media account or your website. Brand awareness and lasting impressions will grow your revenue down the road.
Elevate Your Wine Descriptions
One way to elevate the sampling experience and the customer's perception of your wine is through enhanced wine descriptions and elevated vocabulary. Employ great wine tasting descriptors in order to contextualize and frame the flavors and notes of your products. Invite your audience to smell the wine first in order to awaken their senses and liven their palate for what's to come.
Wine pouring talent should be trained with the appropriate and accurate wine descriptors for each bottle. For big red wines like cabernets and zinfandels you can try words like oak, cigar box, cinnamon, and blackberry. Other leaner red varietals such as pinot noirs are best described with earthy notes like mushrooms and truffles, in addition to nuanced fruitiness like sour cherries or red currant.
For white wines, introduce descriptions with types of flowers, stone fruits, like peaches, and more subtle suggestions like vanilla, mint, or honey. Don't be afraid to throw in notes that you personally pick up on, even if they're a little more whimsical, like a fresh can of tennis balls, barnyard, or forest floor.
Of course, when you are sampling the wine yourself first, it helps to make note of the descriptors that are accurate and appropriate for each product. Share your wine tasting notes with your talent to use in preparation for the in-store tastings. This baseline will eliminate confusion and help your hired talent keep each description aligned with the appropriate wine.
Most importantly, ask your samplers what they taste. After all, there's no wrong way to taste or describe wine. Make each customer feel more comfortable and encourage participation in the process. Doing so increases their engagement and, therefore, the likelihood that they decide to purchase a bottle or two. Plus, you can always learn new things from asking your customers what they think about a certain wine.
Wine Sampling Formats: Think Outside The Box
If you're not opposed to branching out from a traditional script, an in-store wine sampling can take on many different forms. All you need is a little creativity, cooperation from the store manager, and enough space to facilitate your idea.
For example, you can curate a wine and cheese pairing, or maybe lead a class about how a wine is made with a slideshow of the vineyard and its processing facilities. Better yet, have your viticulturist or cellar technician lead the show.
Having the actual winemaker share experiences with tasters can do wonders. Spencer Spetnagel, winemaker at Durant Vineyards in Oregon, explains:
"The more you want the connection to a wine, which is always going to help drive sales, the more meeting the winemaker or learning about the winemaker will help customers understand the wine that is in front of them. Understanding equals connection. When customers make a connection to the wine they have in front of them they are much more likely to take some home."
Audiences appreciate a face-to-face, knowledgeable, hands-on experience, and featuring a deeper educational piece can add more dimension and depth to a wine tasting experience. Give your guests a memory that they can taste and one they can talk about with friends and family.
Track Wine Sampling Conversion Rates To Measure Success
It's impossible to know how effective your tastings are and, in turn, improve upon them without some kind of data analysis. Get real insight into how successful your in-store wine samplings are. Pay attention to how many units you sold of a particular wine over the course of the tasting. Then, monitor those numbers over the next week and month. Discern what patterns emerge in relation to the days that you hosted tastings. Luckily, Overproof offers all of that and more with the Tastings platform.
On a more personal level, you should always gather as much direct feedback as possible from store visitors that sample your wines. As much as you want to tell your story, listening to shoppers and providing the space for them to talk about their own preferences and opinions is equally important. Try to get an idea of how much they enjoy your wine. What did they like about it? What flavor notes did they pick up on?
Wine tastings are, in this sense, also a great opportunity to conduct some market research. Conversational feedback can be tracked with Overproof Tasting's 5-second survey to provide actionable insights. These insights will help tweak and fine-tune your sampling events, distribution strategy, and even wine-making decisions.
Create Enjoyable Impressions with In-Store Wine Sampling
In-store tastings are a proven way to acquire new customers, so long as they are executed properly. Remember, these tastings are meant to be enjoyable! A positive vibe and lighthearted energy will go a long way in terms of both sales and brand impact. Keep responding to feedback and be open to evolving. Execute well, and you'll have a highly-impactful wine sampling program in place.
Frequently Asked Questions About In-Store Sampling
What is wine sampling?
Wine sampling refers to the process of pouring tastes of different bottles for potential customers. These samplings can be done at a liquor store, at a winery, or even in restaurants and bars. They range from small kiosks with a few bottles to full conferences with hundreds of producers.
Why do you sample wine?
Wine brands and distributors offer wine samples to promote their products. Consumers enjoy sampling because it allows them to try new wines (usually for free) before they make a decision on purchasing them. As such, sampling wine is a great tactic for customer acquisition.
What order should you sample wine?
You should always sample wine from lightest to fullest. Start with white wines, then move to rose, if you have it. Then end with the richest red wine.