While there are thousands of variations on the margarita, all you really need is blanco tequila, orange liqueur, freshly squeezed lime juice and a little salt. When it comes to choosing the right orange liqueur for the perfect margarita, people overwhelmingly turn to the two giants who dominate the United States market: Grand Marnier and Cointreau. So what is the story behind these brands? And, how are they different? Let's take a closer look at Grand Marnier vs. Cointreau.

History of Grand Marnier and Cointreau
Grand Marnier was first made at a fruit liqueur distillery outside of Paris in 1880. Louis-Alexandre Marnier Lapostolle was experimenting with mixing cognac and exotic Caribbean Oranges. The final recipe he landed on has remained unchanged for hundreds of years.
Cointreau dates back to the French revolution. In 1849, Adolphe Cointreau was looking to diversify the family's confectionery business and decided to go into liqueurs. He researched and experimented with flavors until finally achieving the perfect blend of dried bitter and fresh sweet orange peels in 1885.
Grand Marnier vs. Cointreau in Margaritas
Today, these two brands account for 82.4% of all orange liqueur mentions in margaritas on U.S. menus. Currently, Cointreau is on top with 42.2% of the market, but that amounts to a difference of just 2,000 cocktails. Curious as to which brand comes in first according to state? Check out the map below for the full breakdown, or download Overproof's Margarita Report here.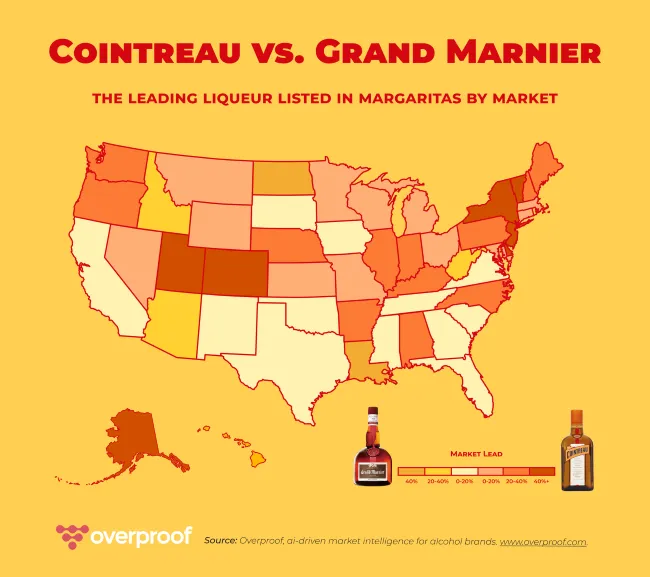 Are Grand Marnier and Cointreau the Same?
While these two liqueurs are distinctly different, let's start by looking at their similarities. At the most basic level, they are both orange liqueurs, which means that they are an alcoholic product that contains orange flavors and sweeteners. They are also both produced in France and contain 40% ABV. Finally, they both emerged in the late 1880s with Cointreau being released in 1875, which is five years before Grand Marnier.
The big difference when it comes to Grand Marnier vs. Cointreau is in the way they taste and how they influence the flavor profile of cocktails. Much of this can be traced back to the way they are made. Cointreau is the result of sugar beet alcohol while Grand Marnier relies on cognac and bitter oranges. This combination gives Grand Marnier a sweeter and heavier taste full of oaky and vanilla notes. It has flavors that you would expect to experience in a barrel-aged spirit.
Cointreau, on the other hand, has an intense orange flavor and a nice clean finish. It creates a lighter palate, which helps to make it more versatile that the heavier Grand Marnier.
Can I use Grand Marnier Instead of Cointreau?
Ultimately, it depends. While they are both considered orange liqueurs, their differing flavors mean that they are not always interchangeable. However, there are some situations where you can swap between the two liqueurs by making some simple adjustments.
For example, if you are using Cointreau instead of Grand Marnier, you will want to add an additional ⅛ oz per drink. This will help to create that sweet taste and weight that you would expect from Grand Marnier. When you are using Grand Marnier in place of Cointreau, use less because it is a lot heavier. Don't forget to sip the cocktail before serving so that you can make any necessary adjustments.
Why is Grand Marnier More Expensive than Cointreau?
It all comes down to branding and creating a sense of exclusivity. Everything about the Grand Marnier brand, including the packaging, is designed to give a sense of sophistication. That is why a 750ml bottle of Cointreau will cost you $30-35 and the same size bottle of Grand Marnier will run you $35-45.
Popular Cointreau and Grand Marnier Cocktails
Classic Margarita
As we have discussed, there are practically an infinite number of variations on this cocktail, but for a perfect summer drink, you can stick to the classic recipe. All you have to do is mix together tequila, lime juice and Cointreau or Grand Marnier. In less than five minutes, you can enjoy a delicious and refreshing citrus cocktail.
Homemade Cosmopolitan
This classic pink cocktail is perfect for any occasion. All you need is citrus vodka, cranberry juice and Cointreau. It is that easy.
Spinnaker Swizzle
This rum-based cocktail features an interesting mixture of rum, Grand Marnier and Linie aquavit. It is another great summer drink that you can mix up in minutes and serve over shaved ice.
Mango-Peach Sangria
Add sweet peaches and fresh ripe mango to Viognier white wine and top it off with Grand Marnier for a refreshing drink that is great for parties.
Top Tequila and Liqueur Pairings
Based on cocktail menu mentions, we can get a better idea of which orange liqueurs bars and restaurants are pairing with which tequilas to make margaritas.
According to Overproof's menu analysis data, Grand Marnier is most often paired with Patron Silver Tequila. This brand received 5,523 mentions, which accounts for 18.34% of all mentions. In second place is 1800 Reposado Tequila with 3,850 mentions or 12.78%, followed by El Mayor Reposado with 3,489 mentions, an 11.59% share of menu mentions.
Patron Silver Tequila is also the most popular option to combine with Cointreau to mix up a margarita. In this case, they received 5,519 mentions for 15.45% of the total. Cazadores Reposado Tequila came in second with 4,003 mentions (11.99%). In third place is Don Julio Blanco Tequila with 3,342 mentions and 10.01% share of mentions.
With the Overproof database, we can even see which liqueur and tequila pairings are the most popular choice in each state. For example, in three major U.S. markets – California, Florida and New York – the most popular pairings are Grand Marnier with Patron. In other key markets, such as Texas, Grand Marnier and Casa Noble is the most popular pairing, while in Illinois, the most popular pairing is Cointreau and Don Julio.
Which is Better: Grand Marnier or Cointreau?
This is the great debate, but it all comes down to personal preference. Based on the menu analysis stats, on-premise accounts are almost evenly split between these two brands. If you appreciate a more complex palate, Grand Marnier is the best option. For a lighter drink, go with Cointreau. For those who are always looking to save a buck, Cointreau is less expensive. Either way, you will have a great orange liqueur that will help you mix up some delicious drinks and treat your guests.
FAQs
Are Grand Marnier and Cointreau the same?
While both orange liqueurs were invented in France in the late 1880s and contain 40% ABV, they have different flavor profiles.
Can I use Grand Marnier instead of Cointreau?
These brands are not necessarily interchangeable, but if you are in a pinch, you can make some adjustments to make it work. When using Cointreau instead of Grand Marnier, be sure to add more than you usually would because it has a lighter flavor. When you have to use Grand Marnier, which has a heavier feel, in place of Cointreau, cut back on the amount a little.
Why is Grand Marnier more expensive than Cointreau?
Grand Marnier has positioned itself as an exclusive and sophisticated brand, which means that it costs more.
What are some popular Cointreau and Grand Marnier cocktails?
Classic margarita, cosmopolitan, spinnaker swizzle, and mango-peach sangria.
Which is better: Grand Marnier or Cointreau?
It all comes down to your personal preferences and the types of drinks you will be making.
Which is more popular in margaritas: Grand Marnier or Cointreau?
See Overproof's infographic for the breakdown.