If you're managing an alcohol brand and you've made it past the production stage, congratulations – you're on the right track! Now you may be looking for a place to store your product while you work on your sales strategy. Enter: alcohol warehousing.
How to Lease Alcohol Warehousing Space
Whether the warehouse will be managed by an independent alcohol distributor or the distillery, winery or brewery who produced the goods, whoever's in charge of the alcohol warehousing step will need to do their due diligence beforehand.
Considering that some alcohol products require specialized storage and that every state has its own regulations, alcohol warehousing presents its complexities. In this article, we'll break down what you need to know about locating, leasing and managing a suitable property.
With Alcohol Warehousing, Location's Just the Beginning
Ideally, there will be warehouse space in an area convenient for all parties' transactions and deliveries, but locations are usually limited and here are the reasons why:
#1 – Temperature-Controlled Storage is a Must
Alcohol warehousing requires much more than a secure roof over its inventory. Ideally, the building will offer climate-controlled features similar to in-house storage facilities at breweries and vineyards.
Dry storage and climate-controlled warehousing are two primary methods used to store alcohol. Dry warehousing is typically less expensive than its climate-controlled counterpart and ideal for beer, wine, and spirits that can be stored in temperatures between 70 and 73 degrees Fahrenheit.
On the other hand, climate-controlled warehousing is ideal for alcohol that requires specific refrigeration or storage temperature requirements. For example, premium wines should be stored in a cool, dark, humid environment. Their warehouse home will provide 50% to 70% humidity to preserve its cork and quality.
Even if your initial inventory will be low-maintenance fast-moving beverages, you should consider future-proofing your warehouse space. For example, if you want to expand your product line to include a different type of beverage in the future, it may require different storage conditions.
#2 – Regulations for Legal Alcohol Warehousing
What about local regulations that apply to the distribution of alcoholic beverages? In addition to federal regulations, every state in the nation has its own set of rules when it comes to alcohol sales and warehousing.
While most states share similar requirements, some will be unique to the state, such as this Tennessee law, which requires that whiskey made in the state must be stored in or around the county where it's distilled.
In 2014, Diageo PLC ran afoul of Tennessee's alcohol regulators for violating the state's law regarding storage of whiskey distilled in Tennessee. Diageo countered by claiming that the law violated interstate commerce rights under the U.S. Constitution. After learning that the local distillery had faced warehouse capacity problems, the state dropped the complaint.
To make sure a warehouse is compliant with current legal policy, researching the state's regulations is essential. Assistance is also available from the National Alcohol Beverage Control Association (NABCA).
#3 – Purchase or Leasing Requirements
While many of us have negotiated a residential lease, such as for an apartment or home, few have signed a commercial lease. It's important to research the finer points of commercial leases like the ones below:
Credit scores often determine negotiating power.
The length of a warehouse lease is usually much longer (usually three to five years).
Commercial property leases are more complex, with the tenant often paying real estate taxes, building insurance and maintenance.
Before purchasing a property for alcohol warehousing, the prospective owner will need to ensure that all required permits – both state and federal – are in order. Ideally, the owner will review Title 27, Chapter 1, Subchapter A of the Code of Federal Regulations before proceeding.
If not purchasing a warehouse for cash, the prospective owner will need to qualify for a commercial mortgage. Unlike residential mortgages, a commercial mortgage may have a shorter term and higher down payment requirement. Business records such as asset and liability statements may also be required, depending on the lender.
Whether your plans are to purchase or lease a property for alcohol warehousing, working with an experienced commercial real estate broker may save you time, frustration and money.
Featured Resource: Distribution 101 For Alcohol Brands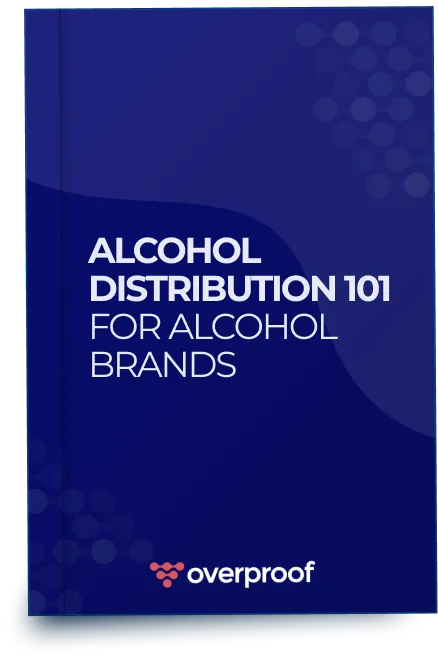 Determining Space Requirements for Alcohol Warehousing
Generally, this is determined by the size of an average pallet of goods and determining how high they can be stacked. Compare this to the total available warehouse space.
Again, alcohol warehousing may present unique challenges. You will need to consider how you will transport your alcohol to the warehouse, the fragility of your bottles and how they will be stacked.
It's also important to consider the average utilization of the entire warehouse as this will help ensure the property is the correct size and price.
Supply chain management skills are another factor in alcohol warehousing. Ensuring that you can source, store and distribute the necessary materials while adhering to state regulations and the three-tier distribution system is essential. Keeping a few backup leasing options on hand may prove helpful should the costs become too great with what you currently have.
Other Alcohol Warehousing Options
If the thought of purchasing or leasing warehouse space for your beverage alcohol business doesn't intrigue you, you can leverage pre-existing warehouse logistics services. These may be the more cost-effective option, but may cost you some control over your own supply chain.
Licensed and bonded warehousing options exist to provide alcohol brands with climate-controlled or dry storage compliant with state and federal regulations. Most providers usually offer pick-up and delivery services and the flexibility to adhere to your production schedule as you scale up or down as well.
Select a few options and research each thoroughly before deciding.
Importance of Finding a Good Warehouse Space
A warehouse located near major transportation routes and has good access to roads, ports or airports can help to reduce the time and cost of transportation and distribution. Additionally, a centrally located warehouse not only increases the efficiency of the supply chain, but also provides market access if it's in an area with a large target market. In this sense, choosing the right warehouse space can improve overall profitability and have a positive impact on the bottom line for the business.
FAQ's About Alcohol Warehousing
Q: Do imported alcohol products require special documentation? What about customs requirements?
Yes. These are under the jurisdiction of Customs & Border Protection (formerly the U.S. Customs Service). You may need to establish a Customs Bonded Warehouse.
Q: I'm planning to become an alcohol distributor. What sort of permits will I need before proceeding to the warehouse phase?
Several are required. In addition to contacting your state regulator for information, you will also need to obtain a federal tax number (EIN), and an alcohol sales permit from the Alcohol and Tobacco Tax and Trade Bureau (TBB).
Q: What is smart warehousing? Is it useful for alcohol warehousing?
Smart warehousing describes a facility with built-in automatic processes. These may include sorting and organizing stock for storage, implementing new organization methods, or even preparing it for delivery.
Q: Did recent economic volatility cause a shortage of buildings suitable for alcohol warehousing?
Unfortunately, yes. When inflation arrived in 2021, many consumers postponed non-essential purchases, causing many big-box retailers to lease additional warehouse storage for unsold items. Proper management of supply chain issues, combined with widening your preferred search area, may improve your options.
Q: My state is infamous for complex alcohol sales regulations. Is there any way I can be sure of keeping my alcohol warehousing legal?
You may want to consider warehouse management software that tracks, informs, and reminds you of compliance regulations.
To become an alcohol distributor in the U.S., one is required to comply with all federal and state regulations to sell liquor at the wholesale level. The necessary steps to be an alcohol distributor include acquiring a warehouse space to store the products and apply for a license to wholesale liquor with the state department of taxation, as each state has its own laws regarding the distribution of liquor.