Hosting liquor or wine sampling events and spearheading other promotional alcohol campaigns are key to increasing brand awareness and making a splash in the market. These tools are so important that brands turn to professional promotional agencies to maximize success. As an experiential marketing or event staffing agency, it is up to you to make sure that every client is meeting their goals and receiving a solid return on their investment. Here are some tips that will help you deliver results when it comes to alcohol sampling events.
Learn Your Client's Brand
If brands use the same old tired sales techniques for alcohol sampling events, their products are just going to blend into the background. Remember that customers are interested in much more than just the taste of a product. They also want to learn about the brand itself, which is why brand activations are so important. What is the origin story? How is it made? Who are the people and personalities behind your authentic brand?
As an agency hosting alcohol samplings, you will want to make sure that any brand that your talent is showcasing is set up for success. Here are some techniques that your talent should focus on as they prepare their sales pitch:
Understand what the brand has to offer that can't be found anywhere else.
Talk about how the products are made.
List different cocktails that can be made with the products.
Highlight any unique ingredients that will capture the customer's attention.
Outline the journey to the final product.
Be sure to talk with customers naturally and not just go for the hard sell.
Speak about any celebrities or prominent figures that drink or endorse the product.
Featured Resource: The Ultimate Store Sampling Guide For Alcohol Brands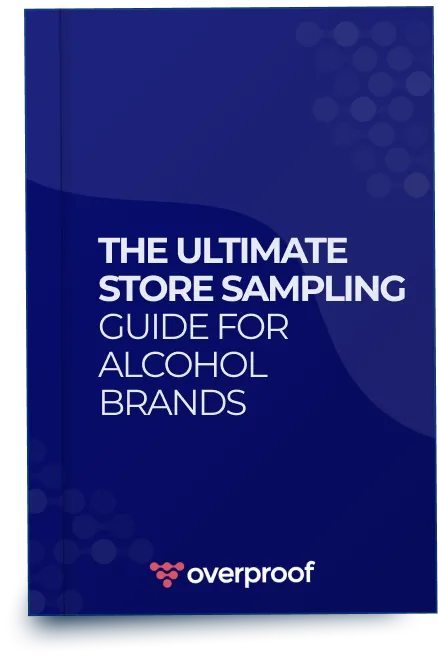 Best Practices for Managing and Conducting Alcohol Sampling Events for Alcohol Brands
Below are some additional factors to take into account when hosting an alcohol sampling event.
Discuss Goals and Budget
Take the time to meet with your client and discuss their goals in detail. For example, are they looking to increase brand awareness or improve conversion rates in retail locations?
Next, consider the hard costs that will be required in order to hold the event. Make sure that you have an idea of pricing and budget from the supplier.
Focus on the Brand's Story and Create an Experience
Partner with the supplier to hone in on the brand's unique story.
Work with your staff so that they are empowered to get consumers excited about the brand and lay the foundation for long-term relationships.
Direct your efforts toward making the event a true experience that is engaging and goes beyond just trying to make the sale.
Make it Easy for Your Client
Handle all the practical and logistical issues related to the event so that the supplier doesn't have to worry about any of the details.
Collect Data and Measure Your Success
Create ways to collect customer data that can be used in re-engagement campaigns, such as email marketing.
Implement strategies for measuring sales lift so that you can provide the client with evidence that the event was a success and met the client's goals.
Measuring the Effectiveness of Spirits Sampling Events
As mentioned above, it is imperative that you analyze the effectiveness of the sampling event so that you can better understand if it was a success or if something could have been improved upon, such as the talent, location or time of day. Here are some ways you can assess your alcohol sampling event.

How much product was given away through the course of the event?
Based on the number of sales, what is the conversion rate?
How do sales before the event compare to sales after the event?
Did the event have an impact on social media?
Was the media present at the event?
Was the event as successful as previous sampling events?
Using Tech to Analyze Your Alcohol Sampling Events
A lot of this information can be collected and analyzed with the help of the Tastings app. Brand ambassadors can use it in the field to help their managers better understand customer demographics and purchasing behavior. Through a quick 5-second survey on their phone, talent will provide valuable insights into customer feedback, purchase decisions and more. You can also compare the feedback to information from competitors.
To ensure the accuracy of the reports, the store manager will be asked to sign to confirm the number of bottles sold at the event, thus holding the brand ambassador accountable. These records will also let you know which ambassadors are killing it at events and which might need some additional training. At the end of the sampling event, the brand ambassadors are also asked for their thoughts on the event, which they provide through the Tastings app. Their insights can help to improve upcoming events.
All agency managers have to do is log into Tastings to view the dashboard and generate customized reports for individual clients. This is a great way to provide suppliers with total transparency about the success of campaigns and identify areas where you can make improvements.
With the right tools and strategies, agencies can help suppliers leverage liquor sampling events and provide them with detailed reports that can be used to support future success.
FAQs
How can agencies effectively plan and execute liquor sampling campaigns? 
Agencies need to understand what the brand has to offer, how the products are made, what kind of ingredients went into it during the production process and the different cocktails that can be made with the product. Agencies should also train their talent to be able to naturally engage in conversations with customers.
How can agencies measure the effectiveness of liquor sampling events?
Look at how much product was given away, what was the conversion rate, what impact did the event have in the media, how did the event compare to previous events and whether sales increased after the event as compared to before the event.

What are some best practices for managing and conducting liquor sampling events for alcohol products?
Understand your client's goals, set a budget, get your staff onboard with the project, help suppliers better tell their brand story, collect customer data, make it experiential and ensure that you are increasing conversions and providing a valuable ROI.