Liquor sampling is an essential promotional activity for driving awareness and engagement around products. As the alcohol market continues to expand and grow more crowded, it has become increasingly difficult for brands to garner attention and stand out to consumers. Fortunately, however, liquor samplings can be used to help successfully launch new products and keep them top of mind for consumers throughout the lifecycle of the product. When executed correctly, samplings can be an effective weapon in your sales and marketing strategy.
How to Create an Effective Liquor Sampling Campaign
1. Clarify Your Goals
Before you launch headfirst into your sampling campaign, it is important to identify exactly what you want to achieve as a result of the event. Clarifying your goals will help you to define a budget, locate your target market, select a location and focus your efforts.
2. Learn More about the Location
Take the time to better understand how much foot traffic there is at your desired sampling location during different times of the day. You want to make sure that you have enough product on hand to meet demand while also not going overboard so that you still achieve a strong return on investment (ROI).
3. Define Your Brand
You should be able to clearly communicate the vision and core essence of your brand in order to hire and recruit the right brand ambassadors who can represent your products. Whether you want to appear youthful, sophisticated, laid back, humorous, or anything else, this should be clear in all of your messaging. This will set your brand ambassadors up for success and allow you to appeal to your target audience.
Featured Resource: The Ultimate Store Sampling Guide For Alcohol Brands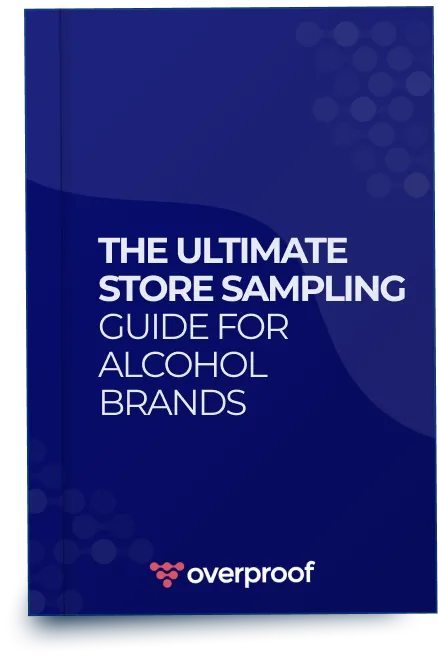 Ensuring Compliance during Tasting Campaigns
First and foremost, your brand ambassador will need to make sure that anyone who takes a sample is at least 21 years old, which is the minimum drinking age in the United States. Depending on the location, serving anyone underage is a misdemeanor or a felony, which is why age verification is absolutely necessary. Depending on the setup of the event, promoters may be able to check IDs as people are admitted or at the time of the sample. Either way, the person must be able to prove that they are at least 21 before sampling your product.
It is also important to remember that alcohol regulations can vary widely from state to state. Brands are responsible for becoming familiar with the laws in areas where they will be hosting sampling events. To be extra cautious, consider consulting with an attorney to ensure complete compliance.
Best Practices for Setting Up Your Station at Liquor Sampling Events
1. Tablecloth
Bring a black tablecloth. This is a simple way to dress up a folding table and help to hide any spills that may occur.

2. Ice
Have plenty of ice on hand. For products that should be chilled, have the bottle or can on ice as part of the display. Also, make sure that your backup bottles are being adequately chilled so that they are ready to serve. Finally, if you are offering samples on the rocks or in cocktails, have ice and tongs ready to go.

3. Mixers
If your liquor goes well in a simple cocktail and you prefer to sample it that way rather than straight, then make sure your ambassador has the appropriate mixers on hand too. For example, if you have a strong gin brand that is more palatable to the average consumer when served with tonic water, then make sure your brand ambassador has tonic water available to quickly make G&Ts.
4. Display
Create a stunning visual display. The brand ambassador is responsible for making sure that the sampling table is neat, organized, and eye-catching. To help encourage sales, have bottles lined up so that customers can quickly grab a bottle for purchase after the sampling.
Best Locations for Liquor Samplings
Finding the right location is one of the most important and challenging aspects of setting up sampling events. You want to make sure that you reach your target demographic and host the event at a time of day when you can engage the most customers who are in the right headspace to try a new product.
With all these different variables to consider, your best bet is to make informed decisions based on data. Fortunately, Tastings can be used to generate comprehensive reports based on demographics, time or day, geography, and other categories so that you can really hone in on which locations will yield the highest ROI. The Tastings dashboard aggregates data collected at sampling events through the app. Taking a closer look at each category, brands can see which demographics engage more according to day, time, and across various locations.
Best Dates to Host Liquor Samplings
If you want to maximize your results, consider hosting your sampling in the days leading up to and the day of a holiday or other popular date. Retail stores are almost always busy on holidays, so there will be plenty of foot traffic. This also means other brands will be gunning for floor space so make sure to reserve your spot with the store manager as far in advance as possible. Options include:
Valentine's Day 2/14
National Margarita Day 2/22
Cinco De Mayo 5/05
World Gin Day 6/10
4th Of July 7/4
Thanksgiving Day – both the day before and after.
Christmas Period 12/23 – 12/24
New Year's Eve 12/31
Effectively Training and Managing Sampling Staff
Find the right talent
As you recruit professional models and brand ambassadors for events, look for people who are outgoing, professional and engaging. These characteristics, combined with a deep knowledge of the brand will help them close sales. The last thing you want is a staff member who has to stall and consult the bottle's label in order to answer a customer's question.
Prepare your ambassadors in advance
If you want to effectively prepare your staff and set them up for success, you should send them all the relevant brand and product information well before the event. This will give them plenty of time to study resources and get to know the brand before they become the public face of the brand. The more educated they are, the more confident and passionate they'll be about the products throughout the course of the event. Adequate preparation time will also allow ambassadors or hired talent the opportunity to ask any questions about your brand.
Be sure to provide your staff with the following materials prior to the liquor sampling event:
The brand's website, which should include company history, a portfolio of products, where the products are sold, etc.
A sell sheet that lists every product along with a quick synopsis of key facts.
A drink strategy or suggestions for mixing or pairing the liquor.
A list of ingredients and flavor profiles for all products.
You may also want to invest in some in-person or online training sessions so that brand ambassadors have ample opportunity to ask questions.
Below we've included several helpful tips you can easily share with your brand ambassadors on how to positively engage and interact with customers. Feel free to copy/paste and modify as you see fit for your brand.
1. Make a Strong First Impression
Be sure to show up to your first booking fully prepared and looking professional. You can look the part by wearing all black, well-fitted clothing. Hairstyles should be kept neat and any makeup should have a natural look. The more presentable you look, the more confidence you will have when speaking with customers. A positive and genuine ambassador will have a much better chance of engaging with customers and converting conversations into sales.
2. Stay Engaged
Most customers who enter a liquor store already have a plan in mind of what they are going to buy, so why should they stop and try something new? Once you are able to get a customer to your table, be sure to tell them all about why the brand is unique, provide some key facts, and share the backstory of the brand along with various cocktails they can create with the product. Engaging with the customer throughout the sampling will help you earn their trust and get them excited about the brand.
3. Ask Questions
Instead of going for the hard sell, stop and ask the customer what they are shopping for or what they will be making for dinner. This will create a natural and open dialogue and you can actually help them find a solution for what they are looking for. It is a simple and effective strategy for closing sales.
Measuring the Effectiveness of Liquor Sampling Events
Following the sampling event, it is essential to analyze the effectiveness of the event in order to determine if your time and energy was well spent. Here are some tangible measurements to look at as you assess your event.

Amount of product given away during the event.
How many sales were made? What is your conversion rate?
Comparison of sales in the weeks before and after the event.
Social media impact. Was the event shared on various platforms?
Was there a media presence?
How did the event compare to previous events?
The Tasting app is great tool that helps brand ambassadors actively collect consumer demographics, retail data including pricing, inventory and competitor information, products impressions, and conversions during a sampling event. A simple 5-second survey captures insightful feedback from those who sampled along with whether they made a purchase. At the end of a sampling event, the store manager is asked to sign off on the recorded sales, and give feedback on the event and brand ambassador to make sure they are held accountable for their work. This will give you further insight into which brand ambassadors are crushing it for your brand versus those who might be missing the mark. Likewise, the brand ambassador will provide feedback on the event turnout and location to better inform future samplings.
Following Up with Customers after the Event
During the event, you might want to provide a way for customers to share their contact info or email addresses so you can follow up with an email marketing campaign to further cultivate relationships and gather more feedback.
One technique is to encourage newsletter signups by holding a drawing for a free liquor bottle. Handing out promotional products, including koozies, coasters, and keychains, in exchange for contact information can also be helpful in creating a clear pathway for follow-up opportunities.
Looking for more creative promotional ideas to make your brand stand out at a sampling event? Check out our related article here.
Liquor Samplings Wrapped Up
When it comes to marketing your brand and connecting with customers, liquor sampling is an essential promotional activity. It provides a great way for customers to learn about your products and try something new. At the same time, you can gather feedback and use customer insights to inform your product and brand development. If you haven't already, now is the time to take advantage of alcohol samplings to grow your brand and maximize your ROI.
Have a wine brand, too? Check out our wine sampling guide here:
FAQs on Liquor Sampling
How can alcohol companies effectively plan and execute liquor sampling campaigns?
Start by clarifying exactly what you want to achieve with the sampling event, determine how much product you will need to bring based on foot traffic projections, and highlight your brand's message.
How can alcohol companies ensure compliance with laws and regulations during liquor sampling events?
In the US, you will need to make sure that customers are at least 21 years of age. Depending on the event, IDs can be checked at the door or at the time of the sampling.
How can alcohol companies measure the effectiveness of liquor sampling events?
Determine how much product you gave away, calculate the conversion rate, compare sales prior to the event with sales after the event, and look at what kind of media and social media attention the event garnered.
What are some best practices for managing and conducting liquor sampling events for alcohol products?
Start with an eye-catching display with a tablecloth that can hide spills and add elegance. Also, make sure that you have enough ice on hand to chill bottles and serve in the samples.
How can alcohol companies choose the right locations for their liquor sampling events?
Think about your target demographic and choose times and locations where you will be able to connect with interested customers. The Tastings app can help you hone in on relevant data that can inform your decisions.
How can alcohol companies effectively train and manage staff during liquor sampling events?
Be sure to hire professionals who are outgoing and engaging. Next, provide them with adequate time to research and learn about the brand so that they can answer questions from customers. You may also want to hold in-person or online training sessions.
How can alcohol companies create a positive customer experience during liquor sampling events?
Focus on the customer's needs, ask them questions, and demonstrate how your product will meet their needs.
What are some creative ideas for liquor sampling events for alcohol products?
For more details on creative ideas for your event, read this article.
How can alcohol companies follow up with customers after a liquor sampling event to encourage sales?
Find ways to gather customer contact information at the sampling event and follow-up with an email marketing campaign.