No matter how much blood, sweat, and tears you have put into developing a product and bringing it to market, there are no guarantees that it will be a success, especially considering all the competition. When consumers visit a retailer, they will look at a whole shelf of different brands, so what will make them choose yours rather than the one sitting to the right or left of your bottle? Ultimately, purchasing decisions are informed by a consumer's prior experiences with pricing, packaging, and the brand's story. Competitive market research is the key to understanding important nuances and market conditions on a larger scale.
What is Competitive Market Research?
Competitive market research involves learning about any beer, wine or spirits businesses that may be competing for your potential customers. It seeks to determine where your product would fit into a certain target market, to understand the current market and trends, and to learn the strengths and weaknesses of your competitors. Through competitive market research you can also discover other helpful information that will inform your marketing and sales strategies.
Why is Competitive Market Research Important?
Market research is an exceptionally valuable practice that provides insight into exactly where the market stands. This information will allow you to set clear goals for your liquor brand. For example, suppose you are working on securing distribution in a specific region. You will need to know how many competitors you are up against so that you can confidently make the case that your brand should be a part of a distributor's portfolio. Armed with this information, you will be able to provide informed responses to any argument that the segment is already too crowded.
Featured Resource: Sales 101 For Alcohol Brands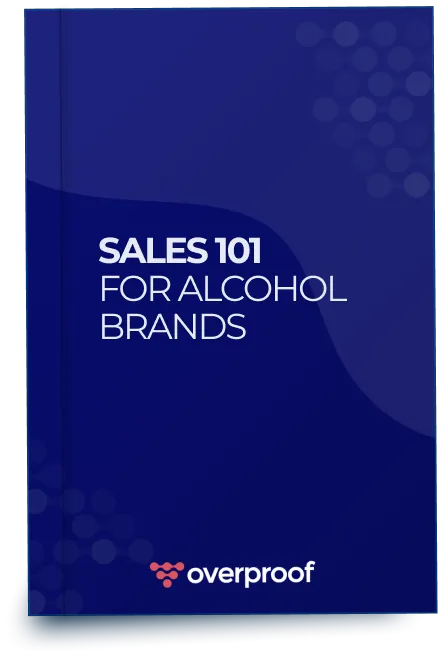 Understanding the Competition
It is also important to remember that competitive market research isn't only for young and emerging brands. If you are managing a more established alcohol brand and are interested in expanding your reach into new markets, you will need to understand how your brand will compete in these different locations and apply the best pricing practices accordingly.
Entering new markets also means that you may encounter new competitors. You will need to understand how your alcohol brand compares to them in order to strategically position yourself to gain a competitive advantage. Understanding the market will allow you to become a permanent fixture in the landscape.
While you may find that some of your best insights come about almost by happenstance, it is still important to establish some foundational research so that you are set up for success from the start.
The Competitive Landscape of the Alcohol Industry
Key Players
The North American Alcoholic Beverage market is defined by a handful of key players: Bacardi Limited, Anheuser-Busch Companies, LLC., Diageo PLC., and Molson Coors Beverage Company. They control the majority of beer and spirits that are manufactured in North America.
U.S. Consumers
The United States in particular has a high number of consumers, which means that manufacturers are consistently adding products to their portfolios. Currently, manufacturers are working to innovate when it comes to both low carbohydrate and higher alcohol content in order to meet the appetites of health conscious consumers. They are also expanding territories and acquiring smaller companies to boost revenue.
While new brands won't be competing with the big guys right away, the strategies that major manufacturers are using can provide some valuable insights into where the market is headed. This information may help emerging brands better position themselves among the thousands of craft brewers and distillers that are currently operating in the U.S.
Ultimately, the competitive market research that you do is specific to a certain point in time. You will want to keep your finger on the pulse of the market and be aware of who is gaining ground and who is falling behind in the industry. Whether you conduct an analysis once a year or as often as every quarter is up to you, but it is important to have a regular schedule and make business decisions based on the latest data.
Steps to Performing a Competitive Analysis
1. Invest in Relevant Research Tools
Using a website like Wine-Searcher.com isn't going to give you an accurate view of your particular market. You will want to drill down even more to get relevant data. Nielsen, IRI, and Euromonitor all monitor consumer packaged goods (CPGs) and have tools that look directly at alcoholic beverages. You can invest in these tools or you may be able to work with your wholesaler to help you get a hold of similar information. Wine Business Monthly publishes data from Nielsen and you can get an online subscription for free. Shanken News Daily is another affordable trade publication that focuses on the U.S. markets.
2. Identify your Competitors and their Pricing and Positioning
First, you'll need to know exactly who you're going up against and also understand how these producers were able to successfully establish their brands over time. It begins with getting to know who your competitors are, familiarizing yourself with their products, and understanding how they went to market.
From there, dig further into their current sales and marketing tactics, and even take a look at their content strategy and brand story. Research how they're pricing their product in the off-premise, and notice what kind of cocktails they're being featured in on menus in the on-premise. By understanding your competitor's pricing, marketing and promotional strategies, and even recognizing any mistakes they may have made along the way, you can glean insights that will inform your own strategies.
3. Get to Know Local Retailers
An important part of competitive marketing research is having conversations. Don't be afraid to talk directly to retailers. You may be pleasantly surprised to find out how much they love to talk shop. You can gain valuable insights into the local markets and network with potential customers.
4. Attend a Tasting Hosted by a Distributor
Once you have chosen a distributor you want to work with, take the time to sample their portfolio and start thinking about how your product would fit in with the rest of the products. Even if you already have a distributor, you can send an employee to a tasting and still get a firsthand view of the competition.
Remember that Competitive Market Research Will Lead to Sales
When it comes to the alcohol market, there are still a lot of barriers to information that make it more difficult to understand how buyers acquire new brands. Research is the only way to better understand the specific value your product holds and how it may perform in different locations. Brands that are able to understand the subtleties of pricing and why certain categories are popular will be rewarded with sales.
Putting Your Data to Work
Once you have collected all your data, you should have a comprehensive view of the market and your competition. Now, you can use that information to create a route-to-market strategy that will help you gain a competitive edge. What that looks like will depend on your market share, your target consumer, and other factors. Here are a few ideas to take your analysis and turn into action.
1. Target gaps in the market
Your research will reveal places where your competition isn't marketing. You can use this to target underserved platforms and markets through social media and SEO efforts.

2. Adjust your pricing
You may find that a competitor offers a much better price point on their liquor bottles. Depending on whether your liquor brand is a value, mid-level or premium product, this could be a clear sign that you will need to make adjustments to your pricing strategy. Look at your supply chain and find places to save money and consider ways to improve your value proposition.
3. Address consumer demand
Pay careful attention to feedback from existing and potential customers. They can reveal specific wants that the competition isn't attempting to meet. This is a great opportunity to experiment in your distillery and produce a new product that they can't get anywhere else.
Using Overproof as a Competitive Research Tool
Overproof can help you take action on your findings, and stay in the loop with where your brand sits in relation to your competitors. For example, Tastings by Overproof allows alcohol brands to gain pricing data on their competitors in the off-premise. Overproof's business intelligence software analyzes thousands of bar and restaurant menus to gain beverage program insights that can help you outsmart your competitors in the on-premise. When you combine Overproof's proprietary data with your own business data, and the data generated by your field team's daily activity through the Overproof app, you can find actionable insights, analyze brand's performance in the market, and then optimize your strategy.
FAQs on Competitive Market Research in the Alcohol Industry
What is competitive market research?
Competitive market research involves collecting data so that brands can better understand the feasibility of their products, their target audience, and the competition.
Why is competitive market research important?
Market research allows brands to make strategic marketing and pricing decisions to help set their products up for success and expansion into new locations.
What is the competitive landscape for alcohol?
Currently, there are five major suppliers that control the majority of the alcohol industry. They are consistently creating new products to meet the evolving tastes of customers and take advantage of trends.
How often should I do competitor analysis?
This will vary depending on your business. Some brands choose to conduct a competitive analysis quarterly, bi-annually, or annually. The key is to make decisions based on the latest data.
What are some steps to performing a competitive analysis?
Attend a tasting hosted by a distributor, invest in relevant research tools, get to know local retailers, and remember that research will lead to sales.
How can you act upon the information received from market research and analysis?
Find gaps in the market and find ways to fill them, adjust your pricing or supply chain costs if necessary, and address customer pain points.