If you have an alcohol brand and have created some excellent products, partnering with the right wholesaler will be key to getting your product in retail locations and available to consumers. The wholesaler, also known as a distributor, plays an integral role in establishing your sales presence and should therefore be a central part of your overall sales strategy. Learn more about why alcohol wholesalers are important, best practices for optimizing their services, and ways to use them to build your brand from the ground up.
What is a Wholesale Alcohol Distributor?
Essentially, wholesaling occurs when a distributor sells alcohol in bulk to retailers, who then markup the product and sell it to customers. This is a common practice in the United States, where a three-tier system governs alcohol sales.
Being a successful alcohol distributor means building relationships with other people along the supply chain. For beverage brands, a wholesale distributor is a vital component of the overall sales strategy because they will buy in bulk from suppliers. Once the supplier and wholesaler have formed a partnership, it is up to the wholesaler to introduce the products to retailers and make sure that the products make it to store shelves. 
Featured Resource: Distribution 101 For Alcohol Brands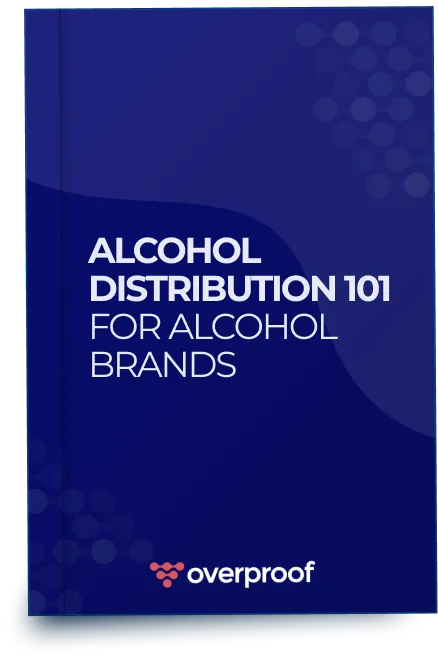 Working with Alcohol Wholesalers
The wholesaler and the supplier also work together to build brand recognition to gain repeat customers while expanding their customer base. In large part, the wholesale distributor acts as a brand ambassador and promotes the brand to retailers. The distributor also plays a key role in collecting taxes on behalf of the supplier and paying state and local taxes for the brands they represent. Taking on this responsibility means that the supplier doesn't have to worry about dealing with the various tax codes in different states and municipalities where their products are sold.
Larger distributors, like Southern Glazer's Wine and Spirits and RNDC, will often take on a more involved role and provide comprehensive services to their suppliers. In this way, they can better support the brand's growth. Ultimately, it is in the distributor's best interest to work closely with suppliers on their marketing and sales strategy since the supplier's success directly impacts the distributor.
Is There a Difference Between an Importer and a Wholesaler?
The terms importer and wholesaler are often used interchangeably, but they are not synonymous. Although they are both types of distributors in the supply chain, these two entities have some notable differences.
Perhaps the most significant difference between an importer and a wholesaler comes down to the fact that importers are licensed to import internationally manufactured products and/or products that are bottled outside the U.S. This means that importers work on a large scale, which requires a team that is more spread out and the far-flung members of the sales team are usually the ones working directly with the retailers. Fundamentally, with such a large team and territory to cover, there aren't as many opportunities to form close working relationships with local brands.
On the other hand, alcohol wholesalers work on a smaller, regional level. They tend to prioritize a sizable salesforce so that they are able to focus on individual customers and specific sales channels. Their goals are much more local and not aimed at creating a national brand presence.
Best Practice for Working with Alcohol Wholesalers
1. Make sure that there is a clear value for everyone in the chain.
If your partnership only provides value to the importers, the wholesaler won't have any incentive to prioritize your brand and you will only make headway in a few areas where importers can provide direct distribution. This will limit your reach. By creating value for everyone, including wholesalers, retailers, and consumers, and acting with fairness, you can motivate them to sell for you and build your brand.
2. Remember that importers operate horizontally while alcohol wholesalers go vertically.
Importers will work to make sure that the brand is available across all channels and geographic locations on a national level. Wholesalers focus on one channel in one region for in-depth access. Both approaches are valuable, but they certainly aren't the same and you shouldn't treat them that way. Look for importers that already have strong relationships with wholesalers where you will be launching your products.
3. Be financially, strategically, and/or emotionally relevant to wholesalers and importers.
An importer is taking a wider view while a wholesaler is up close and personal with its customers. Importers focus on managing long-term relationships with a few key clients. Meanwhile, alcohol wholesalers need to constantly update their portfolio so that they have the right products to meet a variety of needs. Here are some ways that you can become essential to a wholesaler:
Financial: You provide monetary value and better profit margins.
Strategic: Your brand allows them to optimize their territory and enjoy some major wins.
Emotional: Even if you can't offer the two benefits mentioned above, the wholesaler may simply fall in love with your company and your product. Just keep in mind that this love can be fleeting, especially when you consider how many new products are always entering the market.
Essentially, the goal is to maintain relevance and demonstrate your ability to rise to the occasion so that they will want to take you on long-term.
4. Be as present as possible and back up your efforts with the necessary funds.
Of course, you love your product, but no matter how great it is, the market isn't clamoring for it. When you work with a wholesaler, they already have a robust portfolio full of brands. If they are going to put effort into your brand, you have to be a trustworthy and involved partner. This means hitting the pavement with them to sell your products. If that isn't an option, then you will have to provide them with enough advertisement and promotion funds to support the sales force. You may also want to set aside a budget to hire a local employee to help with distribution in your absence.
5. Win over the wholesaler's sales team.
Ultimately, you can come to an agreement in the office, but it all comes down to what the sales team is doing out in the field. Do your best to make sure that everyone is well-educated on your product and brand as a whole, and shares the same goals. This means really getting to know each member of the sales team. Remember that when you are back at your company, they will be the ones executing the sales strategy and you want to be able to trust that they are pushing your products and not a different brand in their portfolio.
6. Try to help alcohol wholesalers by bringing them new business.
In general, wholesalers tend to focus their efforts on expanding existing accounts instead of constantly hunting for new customers. It is easier to introduce new products to bars and restaurants that they have been working with for a while and have existing relationships with. When they do approach a new account, they are going to try to sell their entire portfolio rather than just one product.
If you can help streamline this process for them by connecting them with a bar or restaurant that's not already in their rolodex and wants your product behind the bar, then you can create a win-win situation. Not only does it show the wholesaler that your product is in demand, but it also allows them to potentially get their whole portfolio into a new account. This will ultimately solidify your relationship with the wholesaler.
It is also important to not be too picky when you look at the wholesaler's existing clients. Your goal may be to get in with the trendiest new bar in town, but it is much better to have your product placed at a lot of average bars that will keep you on the menu for years and provide you with a steady stream of revenue.
The Largest Alcohol Wholesalers
This Florida based wholesaler has been in business since 1968. Today, it is the largest distributor of wine and spirits in the US. The company operates in 44 states plus Washington D.C. In fact, as of 2021, it was also the 11th largest privately held company in the US. Its portfolio is split with 45% consisting of wine and 55% spirits.
RNDC was formed in 2007 after three family-owned companies joined forces. National Distributing Company, Block Distributing Company and N. Goldring Corporation came together to form RNDC. The company focuses on premium spirits and wines and works to bring high-quality brands to consumers. In 2019, the company's revenue total hit $11 billion and they are continuing to grow.
Breakthru Beverage is a relatively new wholesaler that was founded in 2016 and delivers premium beer, wine, and spirits brands. Today, the company is owned by over 10,000 employees and the founding family. In a short time, it has experienced dramatic growth and reached over $6 billion in annual revenue.
Founded in 2003 by a group of industry experts with an impressive background in global beverage sales, Park Street is an importer/distributor based in Miami, Florida. They are at the forefront of innovating solutions that have helped quality alcohol brands with compliance, logistics, order fulfillment, accounting, and more.
Alcohol Wholesaling Wrapped Up
A wholesale alcohol distributor is a vital member of your team and a valuable resource. That is why it is essential to clearly understand their role in building your brand and work to build a strong relationship with the wholesaler and their sales team. Using your time and resources to support them and bring some value to the table will create a beneficial situation for everyone involved.
FAQs
What is alcohol wholesaling?
Essentially, wholesaling involves purchasing alcohol products in bulk and then selling them to retailers who can mark up the price for consumers.
What is a wholesale alcohol distributor?
A wholesale alcohol distributor plays a key role in the sales strategy for brands. Once a wholesaler and a supplier have teamed up, it is up to the distributor to get retailers on board with selling the products. A lot of it comes down to building strong relationships.
What is the difference between an importer and a wholesaler?
One of the biggest differences between an importer and a wholesaler is scope. Importers work on a national scale, which means they aren't able to cultivate the same types of relationships. Wholesalers operate regionally and are able to build deeper, more familiar relationships with their partners along the supply chain.
How do I work with an alcohol wholesaler?
Building a successful relationship with a wholesaler means providing them with the right support, making sure everyone is experiencing value, working to bring them business, and staying involved with the process.
Who is the largest alcohol wholesaler?
Southern Glazer's Wine & Spirits is the largest wholesaler and has been in business since 1968.