Field marketing is an essential part of managing and growing a successful alcohol brand. Creating and executing the right marketing strategies that align with sales goals and target the ideal customers allow businesses to build awareness and increase sales. Learn more about the basics of field marketing and the different strategies and tools that are effective in promoting alcohol brands.
What is field marketing?
Field marketing refers to the different strategies that are used to build a brand, manage customer relationships, and generate new leads in the field. Field marketers use a variety of methods to meet their goals, including merchandising, sampling, auditing, experiential marketing, direct sales, and much more. For truly effective field marketing, these strategies should be measurable so that trained marketers can make adjustments and perfect their approach.
Featured Resource: Marketing 101 For Alcohol Brands
The Role of a Field Marketer
Field marketers work to connect with a client's target audience in a way that persuades them to make a buying decision. Marketers have to inform potential customers and influence them so that they are more likely to choose a particular brand. When it comes to B2B sales, field marketers will also use traditional sales techniques to engage with customers. Oftentimes, this means hosting and attending trade shows, in-person meetings, conferences, and webinars.
Cross-Collaboration and Campaigns
In order to help achieve brand goals, field marketers have to work closely with marketing managers and the sales team to develop leads and opportunities to upsell products. On a daily basis, field marketers are responsible for executing various campaigns that can range in complexity. They may visit liquor stores to provide product sampling, demonstrations, in-store promotions, display installation or sponsor other special events at bars and restaurants.
Lead Generation
A field marketing manager is responsible for generating leads in a specific sales territory. Again, they work closely with the sales team to develop strategies that align with regional goals and help positively impact sales and brand recognition.
The Main Components of a B2B Field Marketing Strategy
1. Create and implement a regional marketing strategy
It is important to work with the sales team to understand their goals and target customers, so you can develop an alcohol marketing strategy that supports these goals. With B2B marketing, you are focusing on specific accounts and executing your plan. Since market conditions will always evolve, there will always be plenty to do, especially if you implement a variety of strategies.
2. Collaborate with sales
Any B2B events or marketing efforts are bound to fail without the support of the sales team. No matter how "successful" you are in generating leads, it is up to the sales team to follow up on these and close the deal. Keep in mind that the marketing team is typically expected to introduce about 30% of new customers into the sales pipeline. If the marketing and sales branches of a brand aren't collaborating and working together well, it can result in a revenue loss of 10% or more. That's why a field marketing manager needs to communicate well with sales and look for ways to strengthen relationships.
Featured Resource: Sales 101 For Alcohol Brands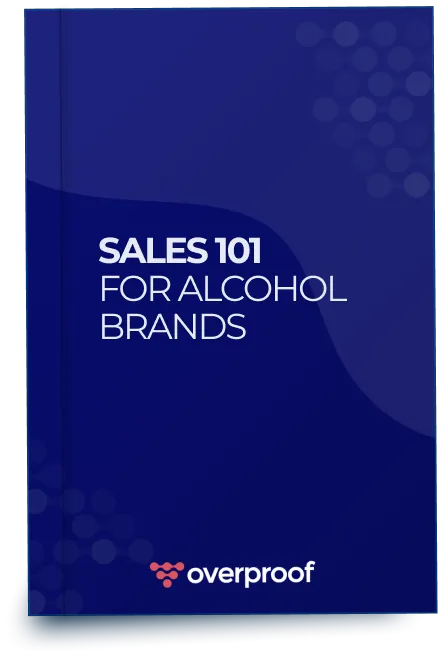 3. Create and manage a marketing team
Regional marketing teams tend to be small and agile. A field marketing manager is responsible for assembling this field team by hiring the best talent available. The manager will also need to make sure that the team has the tools they need to succeed and that they are meeting performance goals. Ensuring continued success can also mean providing coaching and ongoing professional development.
4. Manage agencies
Oftentimes, a field marketing manager will hire agencies to complete tasks that require a certain expertise. For example, they may work with an agency to publish press releases or conduct field research. This can reduce the workload and allow everyone to focus on what they do best.
5. Generate regional demand
Generating regional demand relies heavily on accurate market research. This insight helps define and adjust strategies as needed throughout the year. Some common strategies include content syndication, event marketing, and digital marketing campaigns. Event marketing tends to yield the best results because these events put customers face-to-face with the sales team. Hosting marketing events can require significant time and money, so it is important to promote it through digital marketing efforts and design the event with a specific strategy in mind.
6. Leverage channel partner marketing
Joining forces with other reputable companies and engaging in brand activations are great ways to increase awareness and get the most out of your spirits marketing budget. Your channel partner can split the cost of the campaign, which will allow you to engage in more marketing activities for the same price.
Overproof TEAM creates supplier programming that strategically pairs non-competing suppliers (alcohol and non-alcohol brands) to increase bandwidth and exposure for brands in target markets. For example, Overproof TEAM utilized a spicy passion fruit margarita made with Ghost, a spicy tequila brand, paired with Chinola, a passion fruit liqueur, as a go-to-market activation in Phoenix, Arizona and Nashville, Tennessee.
Examples of Field Marketing Campaigns
Product demonstrations
This type of campaign can be especially helpful to food and alcohol brands. Free samples, liquor tastings, and other giveaways are a great way to get customers to try new products.
Direct selling
With direct sales, customers have the chance to interact with brand representatives who can answer questions and provide samples and demonstrations. Pop-up shops and promotional presence at various events can boost direct sales opportunities.
Retail audits
A retail audit looks at the way retail marketing materials are being displayed at the point of purchase in retail stores. An audit can be used to calculate sales lift from in-store promotions and collect information that will determine how effective displays and marketing materials are in different accounts. The results from this audit can help brands correct and improve their retail and point-of-sale strategies.
Guerrilla marketing
Armed with creativity, guerrilla marketing can be used by field marketers to interact with customers in unexpected ways and in unique locations. These types of campaigns are high energy, cost-effective and require boots on the ground to execute.
Best Field Marketing Solutions
The best field marketing solution for the beverage alcohol industry is Overproof's suite of products. Overproof TEAM provides an opportunity for you to extend your field marketing team while leveraging turn-key technology-driven solutions for supplier programming and partnerships. The Overproof Platform and App helps you keep track of all of your field representatives and analyze the success of your field marketing campaigns.
Meanwhile Overproof's off-premise solution, Tastings, helps you to analyze your talent, consumer demographic data and gather insights on conversion rates for sampling events or product demonstrations. F&B Insights provides an on-premise solution to help expand your alcohol brand's market reach and generate brand awareness in bars and restaurants. Essentially, Overproof has your field marketing covered from every angle.
For a field marketing manager, there can be a lot of different moving parts that need to be tended to in order to run successful campaigns. It all starts with hiring the right team and building a strong relationship with the sales department. From there, technology like Overproof can help you use data to streamline processes, better understand performance, and build a high-performing alcohol brand.
FAQs
What is field marketing?
Field marketing refers to a collection of different strategies that are used to build a brand, manage relationships with customers, and generate leads for the sales team.
What is the role of a field marketer?
Essentially, a field marketer works to find ways to connect with customers, educate them about a product, and persuade them to make a purchase.
What is field marketing management?
Field marketing management involves overseeing marketing efforts within a designated territory.
What does a B2B field marketing strategy involve?
Create and implement a marketing strategy, collaborate with sales, hire a marketing team, manage various agencies, generate demand in certain regions, and engage in channel partnerships.
What are some examples of field marketing campaigns?
Product demonstrations, direct sales, retail audits, and guerrilla marketing can all be used to engage in field marketing.
What is the best field marketing solution?
Overproof's suite of tools is the best option for alcohol brands that are looking for marketing solutions.