Consumer packaged goods (CPG) are products that are relatively low cost and frequently replenished as they are made for short-term use and come in smaller quantities. CPGs play a big role in our daily lives, which is why a CPG retail marketing strategy is important. This guide will help you become more familiar with CPG companies and different ways to optimize CPG sales for your beverage alcohol brand.
Two Primary Segments of CPG Sales
Consumer product goods can be broken down into a variety of smaller categories, but the industry is comprised of two primary segments:
Food and beverages – This refers to manufacturers that are responsible for producing, managing, regulating, and distributing a variety of food and beverage products.

Household – This segment produces and distributes various products that are used at home by consumers.
Alcohol falls in the first category and is among the fastest-growing CPG products. It continues to consistently grow on a weekly basis. In fact, two of the largest publicly traded CPG companies are leaders in the alcohol industry. Anheuser-Busch InBev is ranked #5 and LVMH Louis Vuitton Moet Hennessy is ranked #7. Other non-alcohol companies in the top ten include PepsiCO, Nestle, and Procter & Gamble. 
Featured Resource: Sales 101 For Alcohol Brands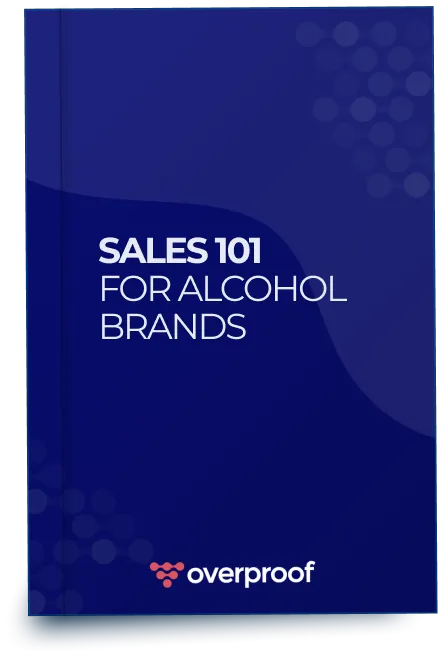 How to Improve CPG Sales
Improving sales is always going to be a top priority for alcohol brands. The CPG industry can be especially competitive as consumer behavior continues to change and new products are constantly entering the market. Craft distilleries, small wineries and craft breweries have the added challenge of trying to compete with big brands and win shelf space at stores. Fortunately, there are some tried and true CPG sales strategies that can help improve performance for your alcohol brand.
Establish a field marketing program. Field activity operations play a vital role in the health and visibility of an alcohol brand. Retailers want brand representatives to work with them to improve POP materials that can range from floor stickers and end-cap displays to full point of purchase displays. Other brand activation efforts, such as serving samples at a liquor tasting event, can also help lead consumers to make some unplanned purchases.
Collect data so that you can prevent inventory from becoming out of stock. The last thing you want is to lose a sale or have a customer purchase a competitor's product because they can't find yours on the shelf. Running the numbers isn't always the most fun part of managing a brand but using formulas to calculate sales lift, sales volume, and running a cost-volume analysis can provide you with valuable information about performance that will influence other strategies, including inventory management.
Try out different pricing strategies. Your price point may be affecting your sales and small changes can help you meet your profit goals. Just be sure to work with retailers when you make changes in order to avoid breaking any pre-existing agreements.
Focus on making your brand and business more sustainable. Today's conscientious consumers want to support brands that share their values and are working to reduce environmental impact while also acting as a positive force in the community.
The Difference Between CPG and Retail
Retail is actually a small part of the CPG sector. Having a commercialization strategy in place can help alcohol brands bring their products to market and sell them to consumers through retail locations. Today, the traditional brick-and-mortar locations are joined by large, e-commerce sites like Amazon. Together, these different retailers sell directly to the consumer.
CPGs create a much broader sector that relies on a more elaborate supply chain. There may be many steps along the path from creating a product to delivering it to the consumer. This is especially true for alcohol brands that may be required to use a wholesaler. Brands also have to think about sourcing raw materials, transporting goods, and implementing a marketing strategy.
CPG Marketing Tools
Many CPG companies are leveraging digital marketing tools that offer a wide reach at a fraction of the cost as traditional marketing strategies. Digital tools also offer the benefit of detailed analytics and reporting. Alcohol brands can accurately measure the effectiveness of different campaigns and adjust their approach as they go. Some common digital tools that should be utilized include:

A well-designed website: To improve CPG sales, an alcohol brand's website should be designed with the user experience in mind. The site should be responsive, engaging and informative. Consider including product reviews and providing an e-commerce component so that consumers can easily make purchases.

Social media profiles: Be sure to stay active on social media, post regularly and engage with your followers.

Search Engine Optimization (SEO): Incorporating relevant keywords into your web content can help improve search engine rankings and organic traffic.

Email: Regular emails that include promotions, coupons and other customized messages can be highly effective in nurturing customer relations.
As mentioned before, earning a significant portion of CPG sales can be difficult for newer and smaller brands. Combining a digital marketing strategy with data and analytics can help you create a top-performing brand. The key is to use digital tools to increase visibility, develop a brand that speaks to your target market, and clearly communicate brand values to the consumer. CPG sales can rest on whether or not a brand is able to communicate why they are different, so it's important to take advantage of all available tools.
Some alcohol brands will seek counsel from liquor consultants or will use an alcohol marketing agency to help them increase CPG sales. Overproof TEAM spirits consultants are a great way to extend your field marketing team in order to amplify your alcohol brand. From in-market activations to strategic partnerships, Overproof TEAM's experts leverage decades of beverage alcohol industry experience to work for your CPG brand.
Now that you're familiar with CPG segments and marketing strategies, you can explore options for distillery software or winery software that can help improve your CPG sales process. For example, the Overproof platform enables alcohol brand managers to set sales goals and KPIs, track depletions and in-market analytics, among many other things. The platform receives real-time field data from the Overproof app, which is a tool that allows a brand's sales team to complete daily account activities, identify opportunities for new and current accounts, submit and track order fulfillments and much more. As an alcohol brand manager, having these insights available can empower you to make better, data-backed business decisions.
FAQs
What does CPG stand for?
CPG stands for consumer packaged goods. Consumer packaged goods (CPG) are products that are relatively low cost and frequently replenished as they are made for short-term use and come in smaller quantities.
What is a CPG company?
A CPG company sells low-cost goods to consumers. Typically, these goods need to be replenished frequently.
What are the two primary segments of CPG?
The food and beverage segment of CPG consists of businesses that produce, regulate, distribute, and manage food and beverage products. The second main segment focuses on producing goods that are used in the household.
Is alcohol a CPG?
Yes, alcohol is considered a consumer packaged good.
What are the biggest CPG companies?
Nestle, Proctor & Gamble, and PepsiCo are the top three ranked CPG brands. Anheuser-Busch InBev is ranked #5 and LVMH Moet Hennessy Louis Vuitton is ranked #7.
What are CPG sales?
CPG sales rely on in-store, field marketing efforts, inventory monitoring and management, pricing strategies, and building a sustainable brand.
What is the difference between CPG and retail?
Retail is just one aspect of the CPG industry. While retail is focused on selling products directly to consumers, CPG involves a multifaceted supply chain along with marketing and other essential steps.
What is CPG brand marketing?
Today's CPG brands are taking advantage of digital marketing tools including e-commerce websites, social media, SEO, and email marketing.