In order to be a successful alcohol sales rep, you have to be able to continually land new accounts and anticipate slow periods that may affect your sales process. This means stepping back from the daily or even weekly aspects of sales and examining the big picture in field activity management. Fortunately, alcohol sales tend to follow a consistent pattern with slow periods occurring around the same time every year. You can use this information to help improve your sales process and make sure that you are able to weather temporary slowdowns. Learn seven essential steps in the alcohol sales process, and specific ways that you can improve upon your current process to enjoy even more success.
Understanding the Sales Process
When it comes to closing sales for your alcohol beverage brand, there are 7 basic steps in the sales process:
1. Prospect
Liquor sales reps have to do their research in order to find and generate leads. Start by creating a list of potential retail partners. From there, mine social media accounts, your existing network and referrals to discover solid leads. It's also a good idea to join professional organizations and memberships that will put you into direct contact with retailers that range from catering companies and club owners to restaurateurs and grocery store managers. Don't forget to use your local Chamber of Commerce as a resource.
Another great tool for the prospecting step of the sales process is Overproof's alcohol database, which includes an interactive map of more than 1.5 million on- and off-premise venues that sell alcohol. Each listed venue includes key data points that help liquor sales reps make decisions about which venues to target first.
2. Connect
Once you have a list of leads, it's time to make that great first impression. Don't fixate on meeting certain sales goals. Instead, make sure that you're well-versed in your product line and working to match buyers with products that meet their needs. In this step of the sales process, it's more important to develop a relationship than it is to immediately make the sale.
3. Qualify
Again, you want everything to be a good fit so that it's a mutually beneficial relationship. This means taking some initiative when it comes to becoming familiar with the menu and back bar of targeted on-premise retailers. You need to know who their current suppliers are, what brands they carry and serve, whether they offer beverage programs and what their menu includes. Fortunately, new technology, like the Overproof app is simplifying this step in the sales process. With the help of the app, you can harness the power of artificial intelligence to gather and analyze data and enjoy real-time insights that will save you time and help qualify certain accounts.
4. Demonstrate Value
Keep in mind that by the time you approach a bar, restaurant or other venue, the owner or manager has already heard from other alcohol sales reps. You will need to offer a professional presentation that speaks to the needs of the customer and provides detailed and transparent information about what they can expect from you and your product. Be sure to ask whether they are happy with their current suppliers and position yourself as the better option. Remember that you are trying to offer information and build rapport by demonstrating value rather than making the hard sell.
5. Address Objections
No matter how awesome your product or your sales pitch, your potential buyer is bound to have some questions and objections. They aren't going to commit right off the bat, but this is a good thing. Take the time to listen to what they have to say so that you can understand where they are coming from and directly address their concerns. Embrace this as an opportunity to further customize your sales pitch.
6. Close the Deal
When you visit with a potential client and make your sales pitch, make sure you bring along everything you need to actually finalize the deal. Have everything from pricing information and order forms to contracts and bid sheets. If you are selling in a control state that prohibits selling cases directly to the bar or restaurant, you may have to follow-up with additional visits to make sure that the process goes smoothly and you don't lose a valuable lead.
When you've reached the point of sealing the deal in your sales process, you can use the Overproof app on your mobile device to send an automatic commitment confirmation to Distributor reps. At the same time, you'll be able to send real-time updates on fulfillments, sold and unsold accounts, and recurring orders to your brand manager. This eliminates the need for any long-winded emails, reports or phone calls.
7. Stay in Touch
Continue to cultivate relationships with your clients. Stop by regularly, especially during slow periods. An easy way to know which of your clients is due for a visit is to use the Overproof app's commitment tracking feature to see which of your commitments are aging.
You may be surprised to see where a simple conversation will lead and they will appreciate a little show of gratitude for their business. Say thanks by buying them a drink and taking them out for a meal. Relationships are at the heart of sales.
Featured Resource: Sales 101 For Alcohol Brands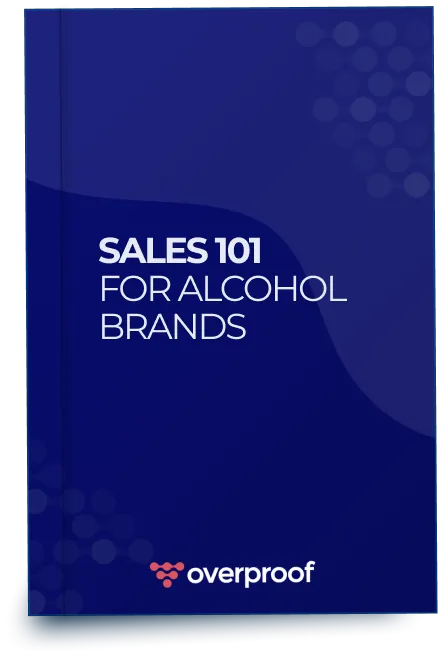 Best Ways to Weather Sales Slumps
No matter how much you have perfected your sales process, there are bound to be sales slumps during certain times of the year, such as "Dry January." One way to avoid getting too hard is to create a diversified portfolio.This goes beyond selling a diverse set of products at various price points. You need to also think about diversifying your client list.
If you only are working with similar businesses in the same general area, there is a good chance they will be experiencing the same business ups and downs at the same time. Branching out and relying on a diverse set of numbers will prevent experiencing a sales slump across the board with all your clients. Even if one client is having a slow period, your other clients may be doing much better and in need of additional cases. This strategy will help you better serve your clients throughout the entire year.
Breaking down the sales process into specific steps that each has their own purpose can help you improve your overall approach. If nothing else, remember the importance of building relationships and creating a diverse portfolio. More than anything, these two key principles will help you to close more deals, make sure that you are able to survive slumps and help you become a successful brand ambassador.
FAQs

What are the 7 steps of the sales process?
Prospect for new leads and potential clients, connect with buyers, qualify your product by making sure it is a good fit for buyers, make the case for your product by demonstrating its value, address any objections from the buyer, close the deal and follow-up continually to cultivate the relationship.
How can liquor sales reps develop a successful sales process that leads to more consistent wins?
Focus on developing relationships instead of making the hard sell. This approach will serve you well in the long run and help you to understand and anticipate the needs of your clients. Also, make sure that you have a diversified portfolio.
How do you avoid a sales slump as a liquor brand ambassador?
The best way to avoid sales slumps is by building a diversified portfolio. If you are serving different kinds of buyers in different areas, you are less likely to be affected during slow periods.
How do you build relationships in the beverage alcohol industry?
Meet with clients face-to-face. Take them out to lunch or buy them a drink so that you can spend time getting to know their needs. It is also a good idea to join professional organizations to help with networking efforts.