Liquor samplings and distillery tours used to be a staple of marketing and branding strategies in the beverage alcohol industry. However, COVID-19 has made gathering in indoor spaces and drinking and socializing with other people inherently dangerous. Distilleries have had to close their doors to the public and find new ways to connect with customers. Similarly, retail stores had to completely put a hold on in-store wine samplings for a while. In many cases, this has meant hosting virtual events. When done correctly, virtual liquor tastings can not only provide a temporary solution to dealing with the pandemic, but it looks like they may become a more permanent part of the industry.
Fairs and tastings have long served as a way to connect producers with buyers and consumers. However, these types of events aren't possible in the time of COVID-19. As a result, distilleries and wineries are having to make adjustments. Some businesses are hosting smaller groups with timed entries while also encouraging social distancing and providing individual crackers and spitoon cups.
However, virtual events have been adopted more broadly. The low overhead associated with hosting these events plays an important role in creating equal opportunities for craft brands and larger producers. With so many advantages to virtual liquor tastings, it is important to spend time now ironing out the kinks and optimizing this tool so that it can continue to be an option even once tasting rooms have reopened.
Featured Resource: The Ultimate Store Sampling Guide For Alcohol Brands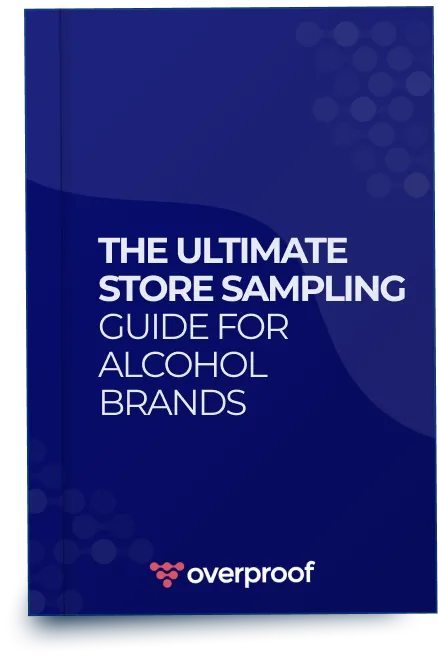 How to Host Successful Virtual Liquor Tastings
If you are interested in getting the most out of your virtual liquor tasting events and making them a success so that they can continue to be a part of your marketing tool box well into the future, here are some tips to follow.
Start with an enticing offer. Curate each tasting kit around a certain theme. This will make the event more attractive and build some buzz around the tasting.

Improve your video production quality. We are all having to get used to seeing ourselves on Zoom and managing virtual calls and meetings. While a smartphone on a tripod is a great place to start, you may want to spend some time learning about basic video and sound techniques and investing in some equipment upgrades. Working on camera placement, making sure the host is maintaining eye contact and adding a webcam and body microphones can go a long way in making your events look and feel more professional and enjoyable.

Create an experience. It doesn't just have to be about the liquor. Make the tasting a part of a larger cooking and pairing class. Add live music to your virtual tasting room or invite a celebrity to help host. Get creative with your event so that it can be the first step in building a relationship that will continue to translate into sales.

Invest in pre and post event promotion efforts. Since customers will have to order their drinks and have them delivered, you want to give them as much lead time as possible. Also, make sure that they can purchase tickets in just a few clicks. Leading up to the event, send out email reminders and regularly post updates on social media. In your various communications with customers, encourage them to share their event with others. During and after the event, make sure staff is available to answer questions, assist with any ordering glitches and send out followup emails or the complete video along with links that make it easy to purchase products.

Partner with other local businesses. Join forces with other distilleries to expand the tasting event and help build both brands. You can also partner with restaurants for food and drink pairing experiences. This is the perfect opportunity to find ways to help each other.
Why Virtual Liquor Tastings Will Become Permanent
While the future remains uncertain, it seems safe to say that virtual liquor tastings will become a permanent marketing fixture. After all, these events are low cost and high reward. You can earn more loyal customers than you would through one-on-one events. They also provide a way to build brand ambassadors who will not only purchase spirits, but spread brand awareness. Cross promotional events and cocktail making classes also teach people different ways to enjoy your products or encourage them to try different spirits, which means more sales. All these different factors make virtual liquor tastings the perfect way to build a community, based on mutual experiences and memories, which is the best way to create a brand that can weather tough times.
If there is any silver lining to the COVID-19 pandemic, it might be that we are finding new and creative ways to behave and do business that will continue to be relevant once life has returned to "normal." Virtual liquor tastings are just one example of a recent innovation that is here to stay. In the future, people will continue to enjoy at-home tasting experiences and distilleries can capitalize on these events to have immersive experiences that include food, drinks and a little education.
For promotional agencies interested in learning how to how to improve their in-person alcohol sampling events, visit:
FAQs
How are liquor tastings evolving in the wake of COVID-19?
In some cases, wineries and distilleries have been able to continue to hold tastings by making adjustments. They have to limit the number of people, create more space to facilitate social distancing, utilize timed entries, include sanitation stations and offer individual water, crackers and spitoon cups. In areas where restrictions are tighter and businesses and closed, virtual liquor tastings are the new norm.
What are some tips for running successful virtual tastings?
Create an experience by curating the event around a theme, partnering with other distilleries and restaurants, adding live music, inviting celebrity hosts, etc. Make sure your video, sound and production quality are up to par and help the event run smoothly. Send out plenty of reminders through email and social media prior to the event and make it easy to complete purchases after the tasting.
Are virtual liquor tastings going to become a staple offering for distilleries?
All signs point to yes. Virtual liquor tastings provide a low-cost way to build brand awareness, connect directly with buyers and consumers, host creative collaborations and events and cultivate a sense of community around fun experiences. All of these things will continue to be true even after tasting rooms reopen.