Brand activation is a marketing discipline that refers to a specific interactive campaign, event or collaboration through which your brand generates awareness and builds lasting connections with your target audience. Brand activation campaigns are carried out in many different forms and can include consumer promotions, experiential marketing, digital campaigns, shopper marketing, sampling campaigns and others.
Brand tasting activations directly address a strategic objective, enable the audience to engage with the brand and its products, and provide measurable results, focusing on return on investment.
How to develop a successful brand activation
When developing a brand tasting activation strategy, it is important to consider it as part of the overall marketing approach that will sustain the engagement of the consumer and growth overtime, not as a separate discipline. You also want to ensure that the brand activation pays off in the form of leads, conversations, and new brand ambassadors.
To create the most rewarding experience for your audience and receive the highest return on investment, be clear about how much you will spend by setting your budget and establishing clear goals for what you want and need consumers to do; respect your audience by keeping them in mind throughout the plan and preparation process to make brand activation fun and engaging for them; humanize your brand to create meaningful relationships with your target audience; create an on-brand surprise effect without shocking your audience; and actively listen to feedback.
Featured Resource: The Ultimate Store Sampling Guide For Alcohol Brands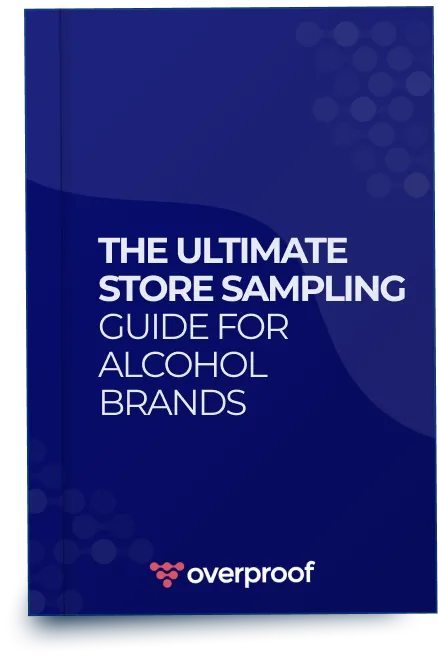 What are the different types of brand activations?
There are different types of brand tasting activation and depending on your type of business, you must find the one that adequately captures the attention of your target audience, which if successful, will cause them to take action. Among the many different types of brand activation, the most common include experimental marketing, promotional marketing, digital marketing, sampling campaigns and guerrilla marketing.
Experiential Marketing
This is the most popular type of brand activation and often known as the most successful one. As the title states, the experiential marketing type of brand activation is all about creating an experience that makes an impression on their target audience.
This type of brand activation, which is one of the 4 Ps in the marketing mix (product, price, place and promotion), is the use of any special offer designed to arouse a customer's interest and influence a purchase and make a particular product or company stand out from its competitors.
Digital Marketing
Also known as data-driven marketing, this type of brand activation refers to any sort of online marketing or marketing that uses digital technologies. Types of technologies include social media, search engine marketing, mobile marketing strategies and email marketing.
Sampling Campaigns
This type of brand activation offers audiences the chance to try the product. Giving free samples of a product can be a great way to introduce people to your brand if done properly and in a timely and creative manner that ensures the best results.
Collecting Data from Sampling Campaigns
To get a good grasp of who your target audience is and to measure the success of sampling events, you should be collecting data. Fortunately, Tastings by Overproof is an app that makes it easy for talent or brand ambassadors to log demographic data, consumer feedback and purchases so you can understand who is interested in buying your product and also if the location for the sampling event is the right one for your brand.
Guerrilla Marketing
This type of brand activation overlaps with experiential marketing in that it creates an experience, but it focuses on creating a surprise and unconventional interaction with the target audience to promote the brand.
With the large number of brands and the noise, the competition for attention increases. As marketing continues to evolve and traditional advertising becomes less effective, developing creative brand activation strategies successfully reaches your target audience in a memorable way, creating sales and increasing revenue.
For more info about how you can use software to optimize your brand activations and receive sampling and conversion data, visit our Tastings solution page here.
FAQ
What is the purpose of brand tasting activation?
The main goal of a brand activation is to transform a brand from one that is unknown to one that is known by its target audience. As a result of a successful brand activation, the brand will be brought to life, increase engagement with consumers and therefore increase sales and revenue.
Is a brand tasting activation only for new brands?
No, brand activations aren't limited to the launch of new brand. They can be used by companies looking to re-brand and become known by a new target audience. For more information, see here.
How to measure brand tasting activation success?
Among the five factors to consider in measuring the success of brand activation are increased social engagement, such as messages, followers, retweets and impressions; number of leads, such as email addresses; number of giveaways, such as promotional products distributed, increased sales; and increased impressions, such as conversations with consumers.